We're Open and Shipping!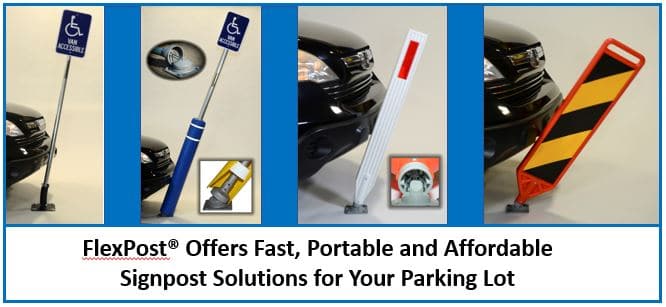 FlexPost® is open for business to serve our customers during this national emergency. President Trump is calling on companies such as Walgreens, Target, Walmart, CVS to assist by setting up testing centers in locations throughout the country. Medical facilities are being pushed to capacity, and we've already been able to partner with veterans' hospitals to help with traffic management.
We are here to help by offering parking lot signpost solutions that are fast, portable and affordable. Our standard Flexposts install within 30 minutes, with mounting options for concrete, asphalt or natural ground, and no special tools are required. Our flexible bollards are available in a variety of colors.
Our SM line includes channelizer posts and delineator paddles with portable bases, which can be set down for temporary needs and then moved at a moment's notice. All of our products are designed to increase parking lot safety, by both eliminating hazards caused by broken signposts and bollards, as well as damage to your customers' vehicles.
Contact us today to learn more.

sales@flexpost.net
www.flexpostinc.com
888-307-6610