The challenge of directing parking lot traffic and keeping patients and visitors safe has become increasingly important. Hospitals and other types of health care facilities are now struggling with a multitude of parking lot challenges. As traffic tends to be moving in and out of these lots on an almost continuous basis transporting patients, staff, providers, visitors, vendor deliveries, emergency vehicles, security shuttles, passenger drop off and more, parking anxiety is at an all-time high.
In addition to stress, traffic congestion can lead to other disruptions, including lost time as drivers are forced to stay in their vehicles longer or drive around looking for a place to park. As a solution to orienting traffic flows in and out of tight parking spaces, many signage and wayfinding alternatives must be employed.
Read our full article in ASHE's HFM Magazine, "Advice on Parking Signage Systems: Upgrading Signposts for a Changing Health Care Environment"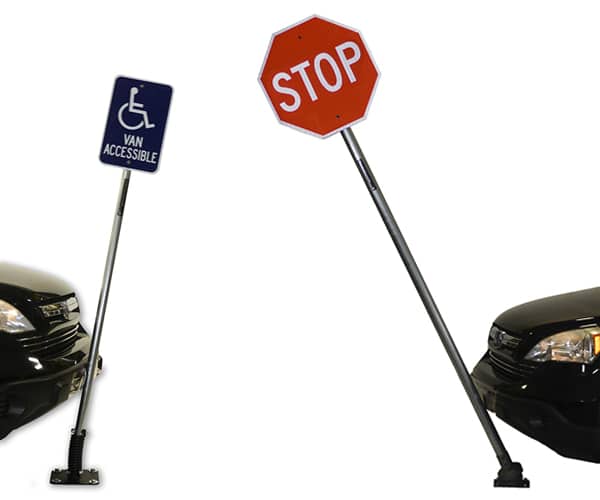 Flexible Sign Posts​
Standard and XL Available
Perfect Break-Fix Solution – ADA Compliant
Installs in 30 Minutes or Less; No Special Tools Required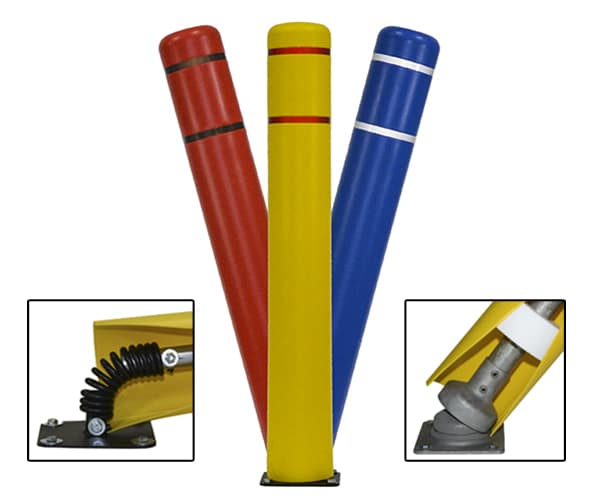 Flexible Bollards
Standard and XL Available
Deter Vehicle Impact with a Rigid Bollard Appearance
Multiple Bollard and Tape Colors – Custom Colors/Decals Available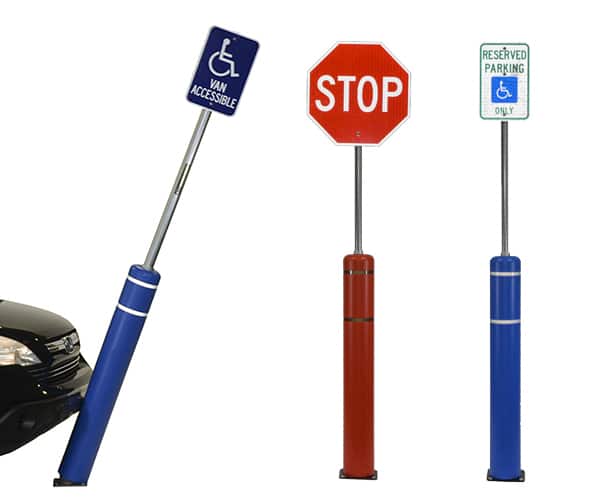 Bollard & Sign Post Combinations​
Holds Regular Sized (Standard) or Large Regulatory Signs (XL)
Deter Vehicle Impact with a Rigid Bollard Appearance
Custom Bollard Colors/Decals Available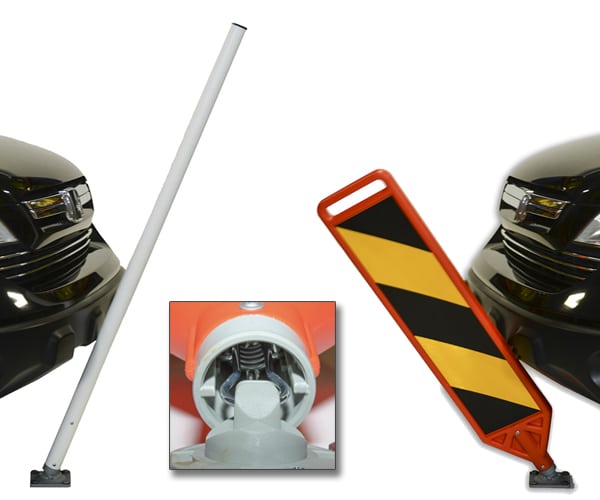 Parking Lot
Safety​
Quick-Deploy, Simple, Cost-Effective Solutions
Turn-and-Lock into Optional Portable Base
Custom Decals Available; Standard Safety Designs In-Stock
Here are just a few of our FlexPost customers...
Cape Cod Health Care – Hyannis, MA
Rapid City Regional Hospital – Rapid City, SD
Glen Cove Hospital – Glen Cove, NY
South MS State Hospital – Purvis, MS
Adventist Bolingbrook Hospital – Bolingbrook, IL
Mercy Medical Center North – Mason City, IA
Clearwater Valley Hospital – Orofino, ID
Lakeland Regional Medical Center – Lakeland, FL
Pennsylvania State Hershey Medical Center – Hershey, PA
York General Health Care Services – York, NE
Freeport Memorial Hospital – Freeport, IL
Firelands Regional Medical Center – Sandusky, OH
Cape Fear Valley Health System – Fayetteville, NC
Cincinnati VA Medical Center –  Cincinnati, OH
Sanford Health –  Thief River Falls, MN
Christian Hospital North East – St. Louis, MO
Greene Memorial Hospital – Xenia, OH
VA Medical Center – Saginaw, MI
UT Southwestern Medical Center – Dallas, TX
Baxter Healthcare Corp – Cleveland, MS
Lake Mead Health Rehab Center – Henderson, NV
St. Vincent's Medical Center – Bridgeport, CT
Healthy Urgent Care – Novi, MI
Porter Medical Center – Middlebury, VT
Norte Dame Health Care – Worchester, MA
Stanford University School of Medicine – Stanford, CA
UC Davis Medical Center – Sacramento, CA
Roane General Hospital – Spencer, WV
Virginia Garcia Memorial Health – Hillsboro, OR
The Memorial Hospital – Craig, CO
Eastern Maine Health Care System – Brewer, MA
Billings Clinic – Billings, MT
Douglas County Hospital – Alexandria, MN
Wesley Woodlawn Hospital ER – Wichita, KS
St. Tammany Parish Hospital – Covington, LA
The Mount Sinai Hospital – Miami, OH
FlexPost® products easily mount to concrete, asphalt, and natural ground. For parking structures, we  offer adhesive mounting for parking structures. This allows versatility in the most crowded and hectic of parking lots as well as easy replacement and maintenance.