Sustainability is important to FlexPost®
Our customers have told us they prefer to buy green products and services. We share similar environmental beliefs as our customers, and seek to use more sustainable design, materials, and packaging for our products – to ensure future generation's access to natural resources.

First and foremost, FlexPost products are designed to flex when they are impacted, which eliminates damage to the sign, parking lot surface, and the vehicle. The flexible design in itself provides a pathway to sustainability in the fact that a broken signpost does not need to be replaced, heavy equipment does not need to be brought in to extract and replace a core-drilled concrete bollard/signpost, and a bumper does not need to be replaced.

This reduces the burning of fossil fuels, keeps difficult to recycle materials (such as concrete) out of the landfill, and helps eliminate waste in manufacturing and materials. (Not to mention the headaches and stress experienced by the customer whose vehicle has become damaged).

In addition to the inherent environmental benefits gained from not needing to replace a signpost every time it is struck by a vehicle, and a better customer experience, there are other aspects of the FlexPost sustainability story to consider as well.
Made in the U.S.A. / Made in Michigan
FlexPost signpost and bollard products are manufactured in the U.S.A., in the lakeshore city of Holland, Michigan. By keeping our manufacturing close to home, we are also able to hire locally to help maintain and build our West Michigan economy.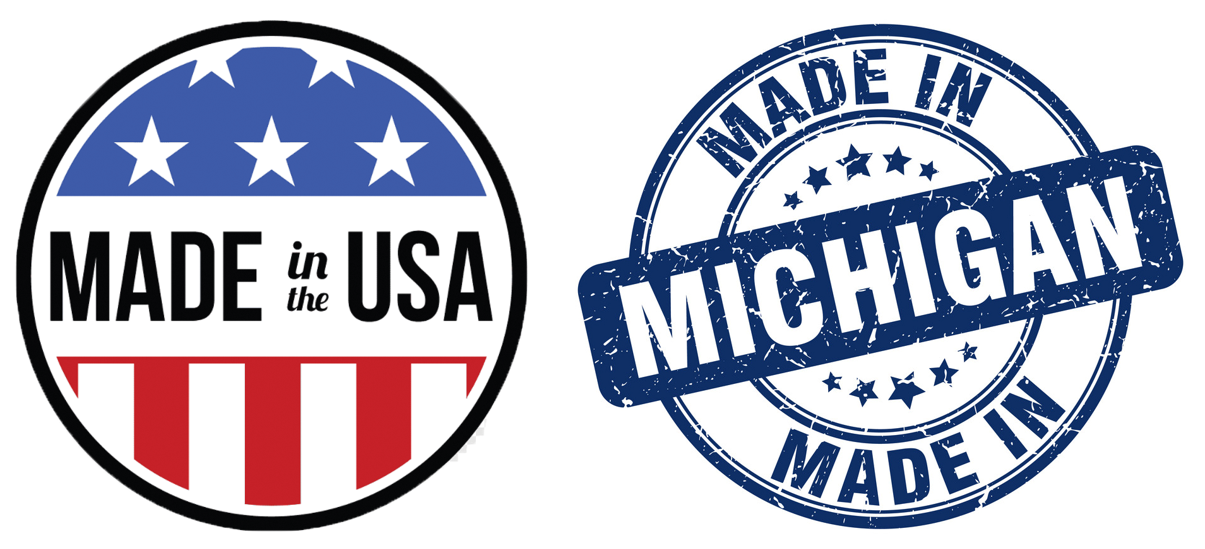 Components are Sourced Locally
We work with local and Mid-West suppliers that share our environmental goals. (The majority of our supplier/partners are located in Michigan). By sourcing our inputs locally, we are able to effectively shorten the supply chain, minimize transportation emissions and costs, and help grow our West Michigan/Mid-West economy. Each of our hand-picked suppliers is also doing their part for sustainable operations:
-Master Halco – Westland, MI Branch
(Galvanized steel posts)
-Marik Spring Inc. – Tallmadge, OH
(Standard and XL springs)
-Techno-Coat Inc. – Holland, MI
(Powder-coating of the Standard base, Standard spring, and natural ground mounting spike)

Techno-Coat has been an advocate for sustainability by their practices of regularly recycling cardboard, paper and batteries. The company's IT Department also collects electronics for recycling. Additional environmental efforts include a Team Earth group which conducts voluntary clean-ups, Earth Day celebrations, Plant-A-Tree giveaways, and Adopt-A-Highway initiatives.
-Agritek Industries, Inc. – Holland, MI
(Stamping and machining of the Standard and XL bases)

Chart House Energy, LLC, a business incubator at Grand Valley State University's Michigan Alternative and Renewable Energy Center (MAREC), built a 525Kw solar energy system next to Agritek's building, resulting in West Michigan's largest non-utility solar project. This solar field includes 3,740 thin-film solar frameless modules, providing one-third of Agritek's total annual power usage. Agritek and Chart House Energy also worked together to develop and implement an innovative tilt-able racking system, designed to increase solar power output performance by 15-20%.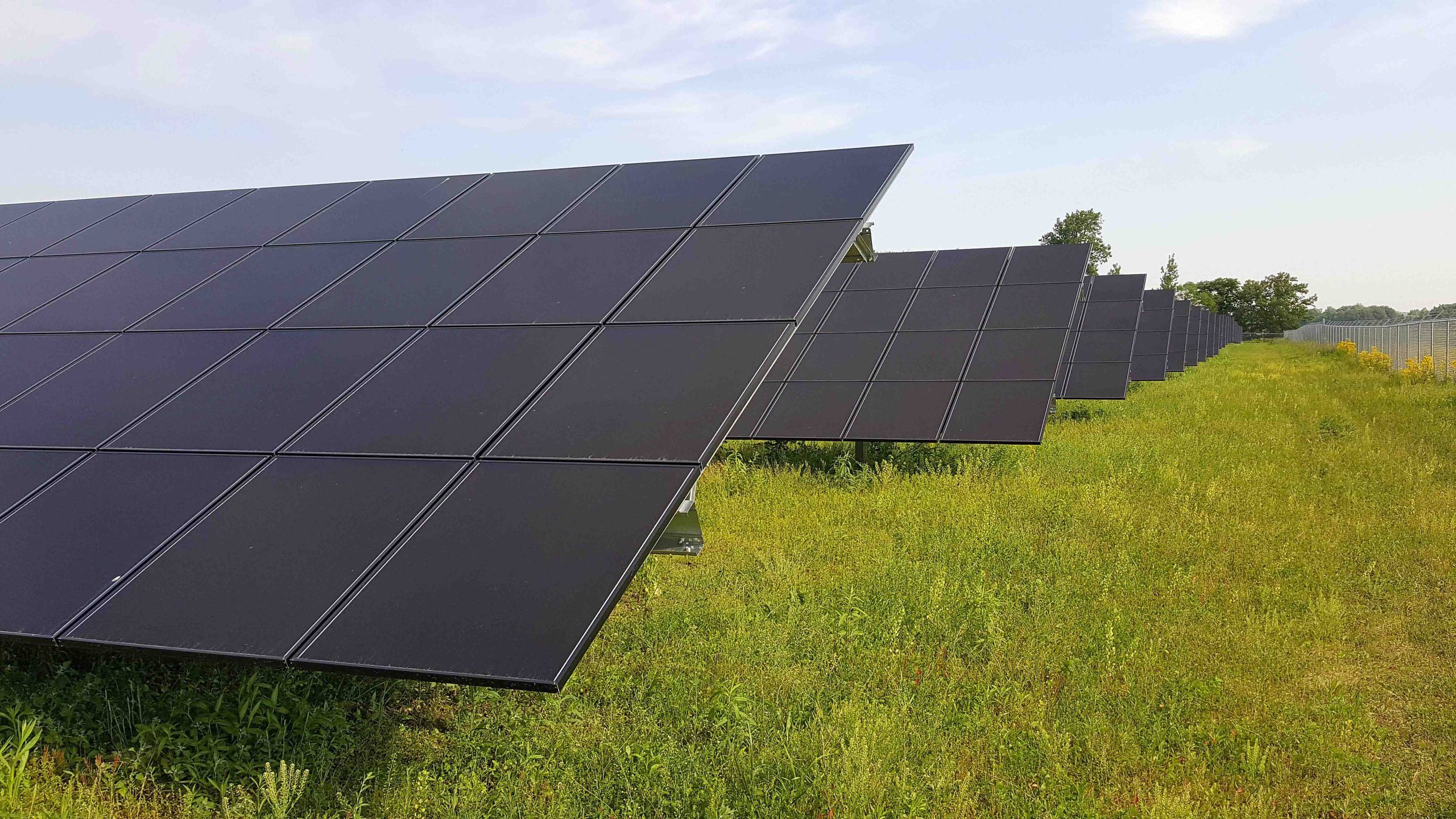 Products are Renewable
FlexPost products incorporate a simple, modular steel design which reduces the amount of material needed for manufacturing. Our products are made from materials that can be, or already have been, recycled or reclaimed.

For example, our signposts and XL base is made of galvanized steel, which can be recycled in much the same way as any other steel products. When it is recycled in an electric arc furnace, or EAF, the zinc in the steel volatilizes and is collected and returned to zinc production. (Source: redsteelmh.com/recycling-zinc-and-galvanized-steel).



Packaging and Shipping Materials are Minimalistic
FlexPost mainly utilizes corrugated materials for packaging and shipping, and corrugated packaging boasts an extraordinary success story. Corrugated "cardboard" is recycled more than any other packaging in the U.S. today. Recycling corrugated packaging decreases solid waste disposal. Collected fiber is then reused to make new corrugated packaging, allowing for  the use of less new raw material. (Source: corrugated.com/recycling).



Products are Built to Last
FlexPost products are durable and remain in parking lots for a long time, resulting in less waste and significant cost savings.

Our XL base has undergone rigorous impact testing, in which the XL spring was subjected to over 1,000 impacts. This test was designed to imitate vehicle bumpers hitting a FlexPost over and over again in a busy parking lot.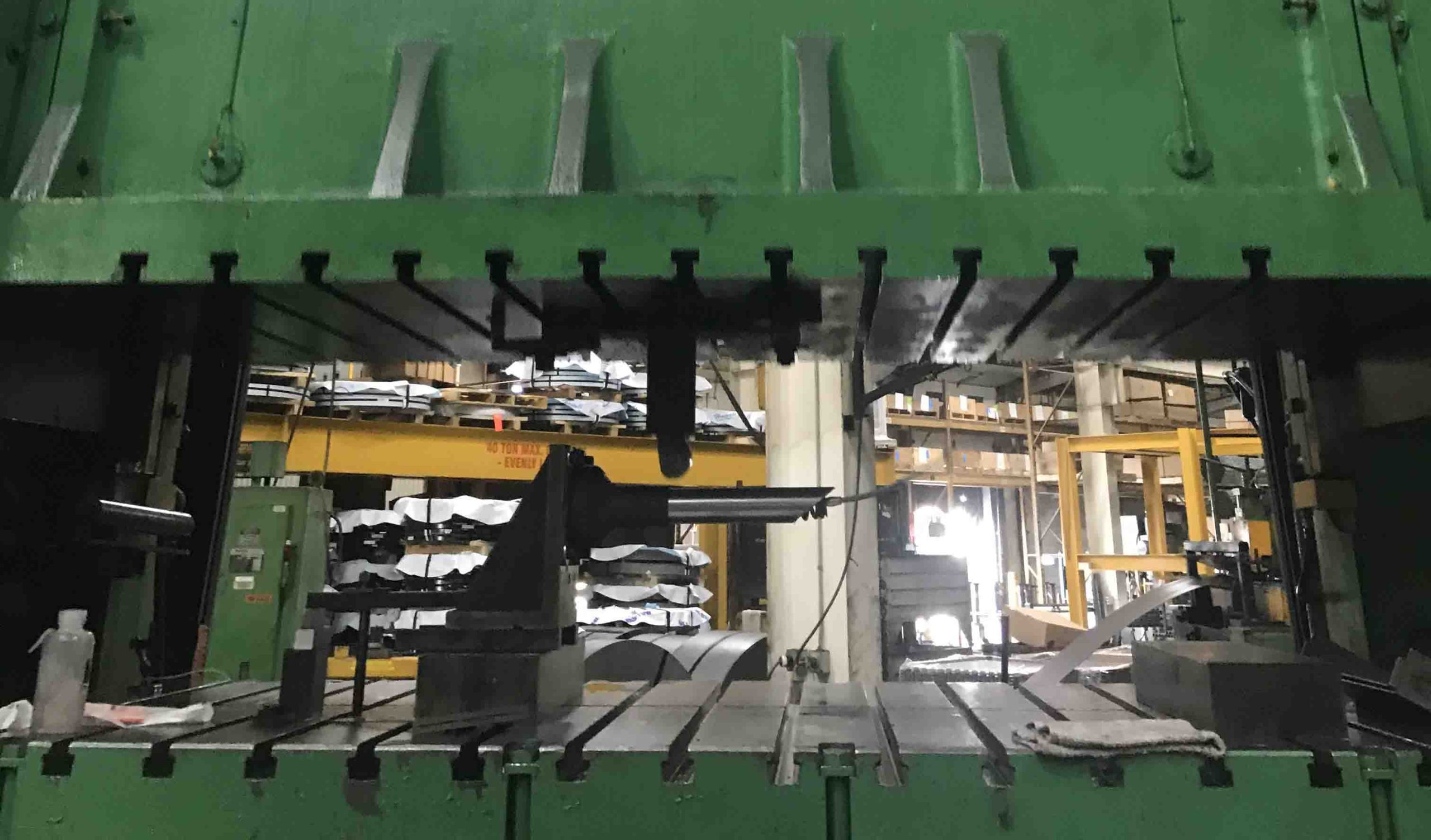 Longevity becomes a major factor when the the product and installation costs of non-flexible parking lot signposts is considered. For example, while the average price of a concrete pyramid base is around $200/each, the cost to transport and install that sign base can reach $475 when the price of shipping and delivery are considered.

Rigid (concrete core-drilled) bollards have also been a popular solution for use in retail lots. Among the limitations associated with a core-drilled bollard are the complexity of installation which involves the use of large equipment, concrete trucks, multiple skilled laborers, and the cordoning off of areas of the parking lot. The result is a disruption of traffic flows and a messy clean up after installation.
Cost Savings in Installation and Repair/Replacement

A major limiting factor of rigid/core-drilled bollard posts is the cost associated with the initial installation and repair upon impact. A broad survey among major retail organizations revealed that the price per installation/repair/replacement of a rigid bollard/signpost averages around $900.00/each.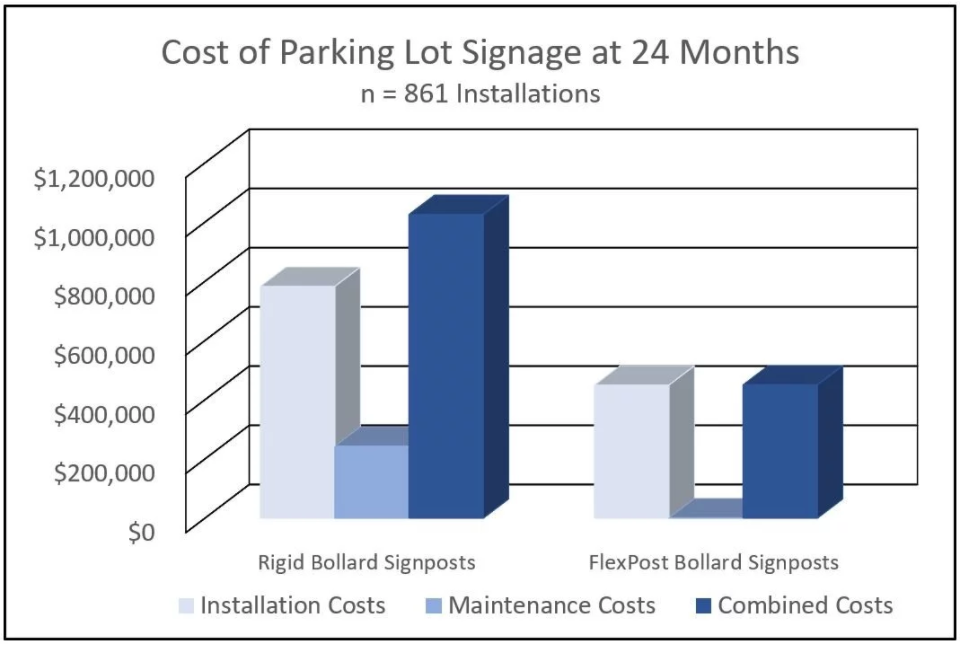 The unsightly appearance of bent parking lot signage detracts from the appearance of the store and creates an impression of disrepair. Even a minor collision with a rigid bollard can cause damage to the signpost, the automobile's bumper, and the parking lot surface. The net result is a customer who will likely not shop that store on the day of the impact, a costly repair to the patron's vehicle, and possible litigation to the property owner or management company.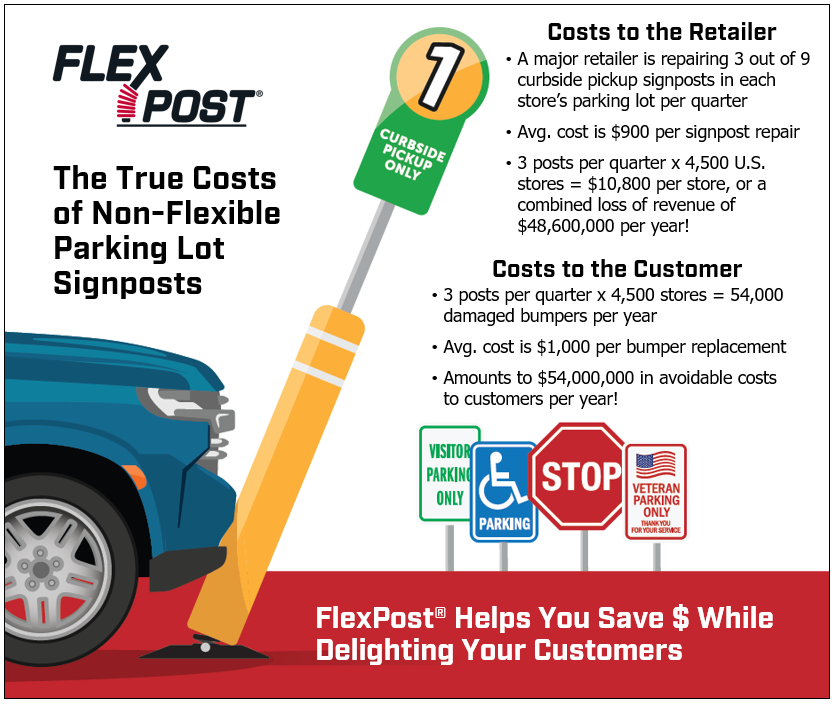 More recently, the invention and refinement of flexible spring-loaded bollards and signposts with bollard covers (as offered by FlexPost) have been widely used to mitigate the ongoing problem of repairing signposts and bollards in busy parking areas. This flexible solution also requires minimal maintenance, lending to greater sustainability.

Read our Full Case Study to learn more.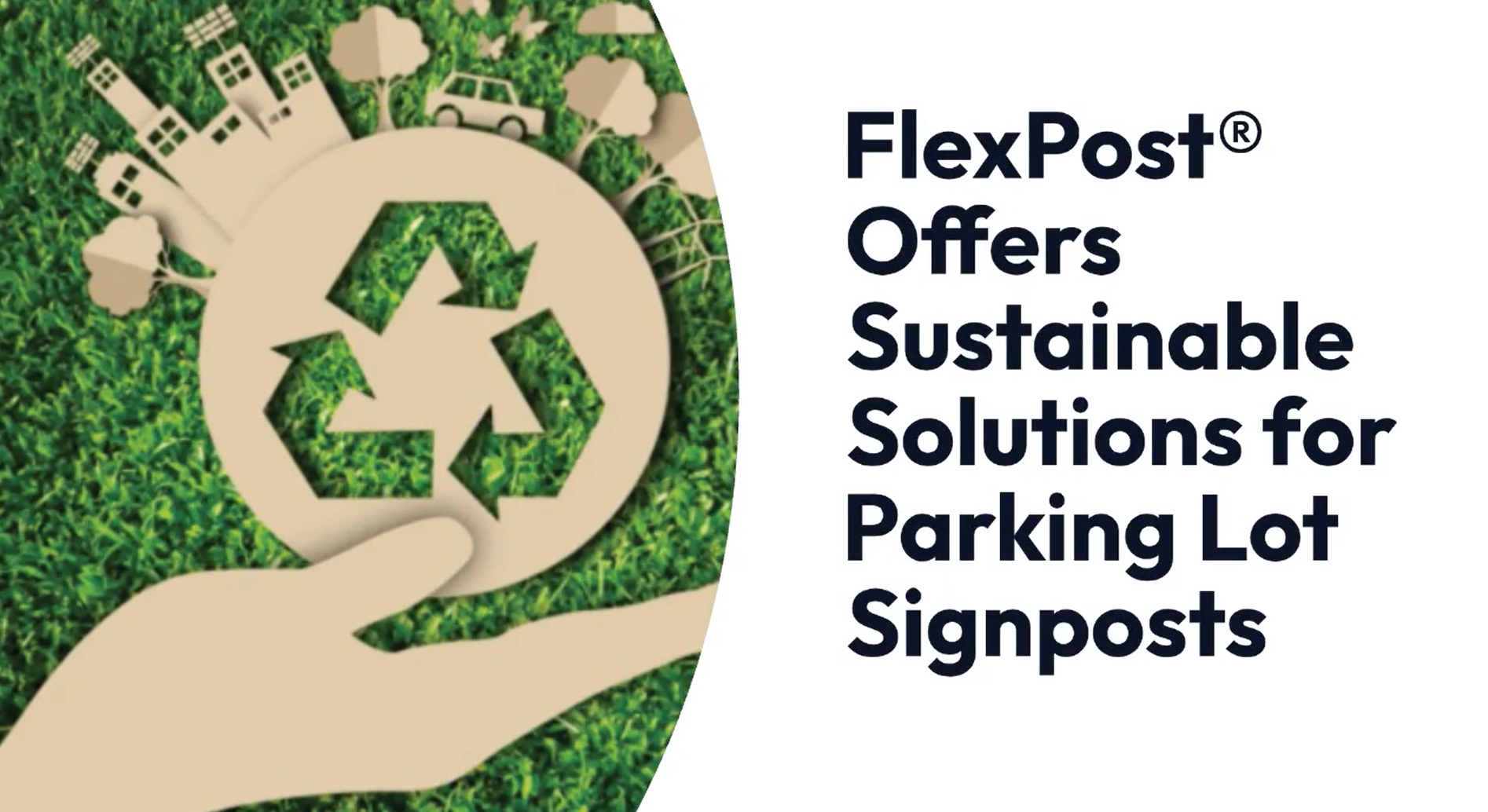 Interested in learning more about sustainable solutions for parking lot signposts and bollards?

Contact FlexPost today.