June Is National Safety Month
As the summer months approach and people venture outdoors more frequently, it's the perfect time to emphasize the importance of safety in our daily lives. June is designated as National Safety Month, a time when organizations and individuals come together to raise awareness and promote safety practices across various domains. In this blog post, we will delve into the history of National Safety Month and explore how FlexBollards are designed with parking lot safety in mind. We will also discuss how FlexBollards can be a safer substitute for traditional rigid wheel stops.
The Origins of National Safety Month
National Safety Month originated in the United States and was established by the National Safety Council (NSC) in 1996. The NSC, a nonprofit organization, has been at the forefront of promoting safety across various sectors for over a century. Its mission is to eliminate preventable deaths and injuries, advocating for safer workplaces, communities, and roadways.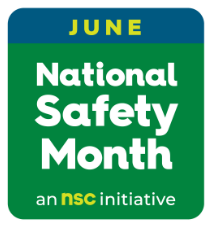 Since its inception, National Safety Month has served as a platform to educate individuals and organizations about critical safety issues and foster a culture of safety. Every June, the NSC highlights different safety themes, offering resources, tools, and campaigns to promote awareness and action.
The Importance of Parking Lot Safety
While National Safety Month covers a wide range of safety topics, it is important not to overlook the significance of parking lot safety. Parking lots are high-traffic areas where vehicles, pedestrians, and cyclists converge, creating potential hazards that can result in accidents, injuries, and property damage.
Ensuring safety in parking lots is essential for both property owners and visitors. By implementing effective safety measures, we can prevent accidents, improve traffic flow, and create a more secure environment for all users.
FlexBollards vs. Wheel Stops
Traditionally, wheel stops (also known as curb stops, parking stoppers or parking blocks) have been used in parking lots to prevent vehicles from overstepping designated spaces. However, these rigid structures can present safety hazards, particularly during low-light conditions or when drivers fail to notice them. Wheel stops can also create a tripping hazard for pedestrians, especially when placed near or within walkways that customers use when entering or exiting a facility.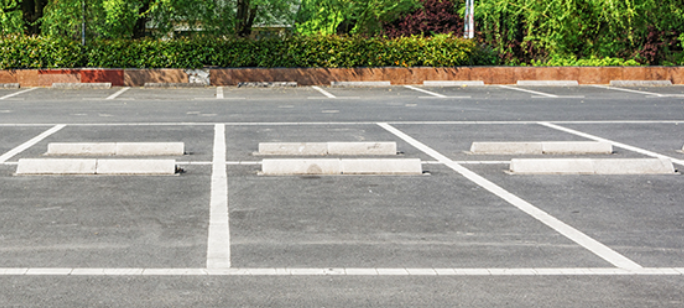 Not only can tripping hazards cause injury, they can also lead to potential litigation. In either case, a customer will most likely no longer be frequenting that business, and negative word-of-mouth can spread quickly. FlexPost offers a safer alternative to wheel stops in our product lineup: FlexBollards.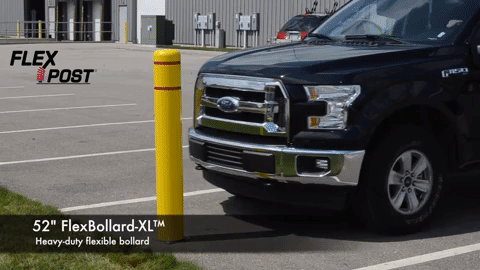 Made with a durable internal steel spring and surface-mounted base, FlexBollards are designed to bend upon impact and return to an upright position. This effectively minimizes damage to both vehicles and parking lots, and ensures the safety of both drivers and pedestrians. FlexBollards are available in bold attention-grabbing colors, and also feature reflective tape for added visibility at night.
FlexBollards also are also lightweight and much easier to transport than concrete wheel stops. In fact, because the base is surface-mounted (vs. core-drilled and filled with concrete like a traditional parking lot bollard), the FlexBollard can usually be installed within 30 minutes using basic tools. As an added benefit, FlexBollards hold the appearance of a non-flexing, concrete-filled core-drilled bollard, which serves to deter impact as drivers typically know to avoid.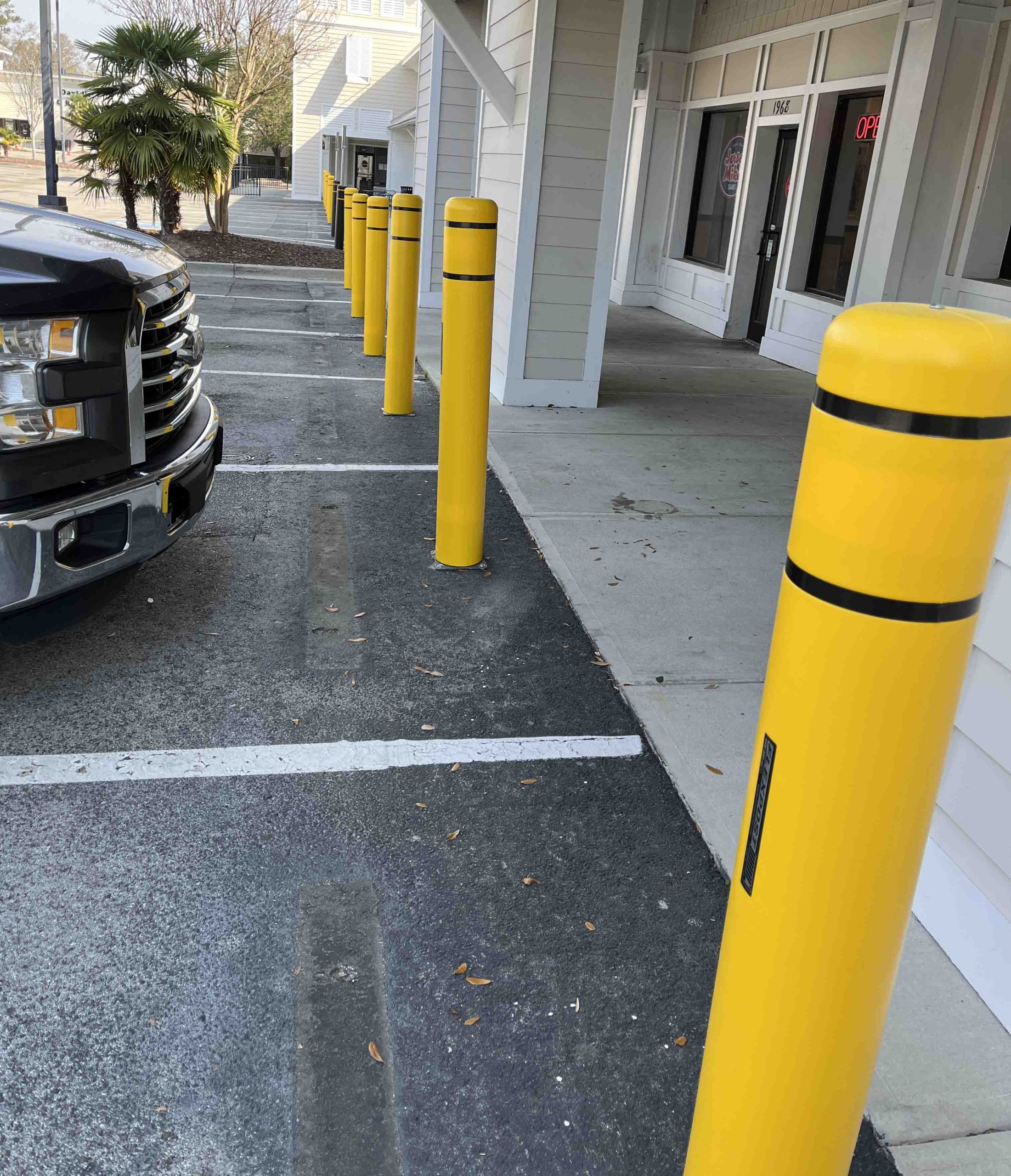 In conclusion, as we commemorate National Safety Month, let's take a moment to consider the significance of parking lot safety. By installing FlexBollards, property owners and managers can reduce risks and promote a more secure environment for both drivers and pedestrians.
Contact FlexPost today to learn more!