Smart Cities
A 2014 report from the United Nations states that 54% of the world's population live in urban areas and by 2050, that number is expected to grow to 66%. As the world becomes more urbanized the need for more efficient cities has also rose. The phrase "smart city" does not have a universal definition. However, smart cities are generally seen as municipalities that use or integrate various forms of technology to strengthen their assets and functions.  Transportation systems, public buildings, waste management or any other community services can be improved through information and communication technology. Smart city market segments (infrastructure, healthcare, energy, etc.) have an evaluated market potential of $1.5 trillion.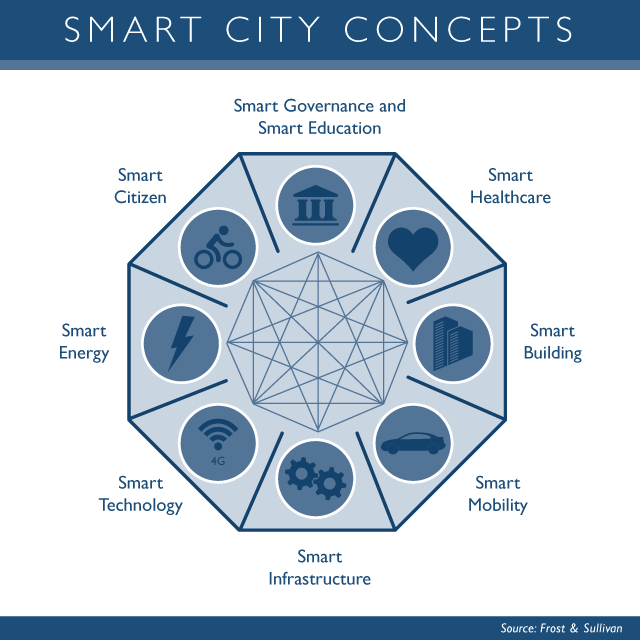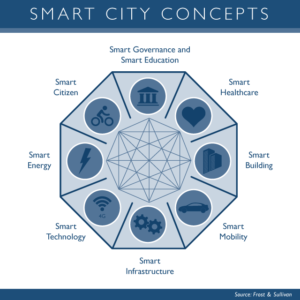 A study conducted by Frost & Sullivan identified eight components of a smart city.
Singapore – The Smart Nation
In recent years, Singapore has emerged as one of the global leaders in instilling smart city technology throughout its country. This "smart nation" installed sensors across the country that collects data and gives feedback to its citizens. For example, these sensors are able to measure energy, water, and electricity consumption for each individual apartment or home. The government uses this aggregate information to enhance the public housing through better monitoring and maintenance.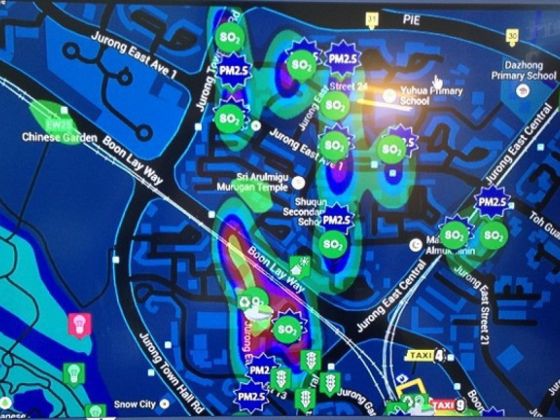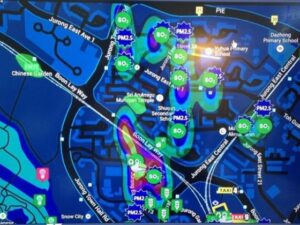 This is a district's data that was obtained through sensors.
Being "Smart" in the United States
In October of 2016, the U.S. Department of Transportation (USDOT) issued a press release stating that $65 million in funds will be given to communities in to advance transportation projects. Former U.S. transportation secretary Anthony Foxx notes how "these grants…[will help] problems like reducing congestion, connecting people to mass transit, and enhancing safety". Cities are given these funds in order to alleviate transportation related issues within their own communities. For example, Denver, Colorado will receive almost $6 million to reduce the congestion of 200,000 drivers each day. In Pittsburgh, Pennsylvania, $11 million is given to the city to reduce traffic near street lights. The funds are used for road signal technology to reduce traffic "by up to forty percent".
Smart City Parking
Parking in a smart city means that technology makes parking easier and more efficient than ever. Driving boards and sensors are installed in parking lots and spaces that allow drivers to know where empty parking spaces are as opposed to driving around the lot and searching one out. Mobile apps have become a popular way for drivers to overcome crowded parking lots and determine which roads and streets are the busiest. Knowing where traffic is and isn't congested and which parking lots are full or empty are all available at one's fingertips.
Parking garages are also becoming smarter by maximizing the space and safety with the use of automation (Click here for a brief history of parking garages). An automated parking garage allows a driver to park into a parking space quicker. In a smart parking garage in Germany, a robotic arm is able to transport vehicles to and from each parking space (See Below). When a driver wants to leave the garage, a robotic arm secures the entire parking space and lowers it to the ground.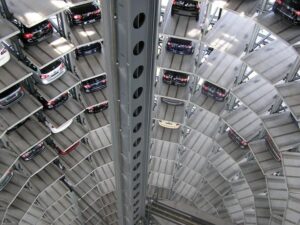 ABOVE: This automated car parking system in Germany holds 1,000 cars. A large robotic arm transports parked vehicles.
FlexPost®'s Smart Thinking
At FlexPost®, we are becoming "smarter" and utilizing technology in every way possible. Our flexible sign posts and bollards allow businesses to reduce repair and maintenance fees to their parking lots and patron's vehicles. We hope to advance parking lot technology by leaving u-channels and concrete bollards behind. The FlexPost-XL™ is one avenue in achieving this vision.
Our FlexPost-XL™ products have a unique base that guarantees longevity and flexibility. The base is galvanized coated steel and contains an internal 5/16″ thick steel spring that is held under compression. The increased surface area of the XL base allows the unit to remain more reliant to high speed winds and impacts than our standard unit which uses a torsion spring. The surface area of the base helps with stabilizing the entire FlexPost-XL™ unit. The individual components within this base allows the entire unit to remain virtually indestructible and extremely heavy-duty while still maintaining flexibility.  Below shows an exploded view of the FlexPost-XL™ base (Figure 1) and a view of the base in action (Figure 2).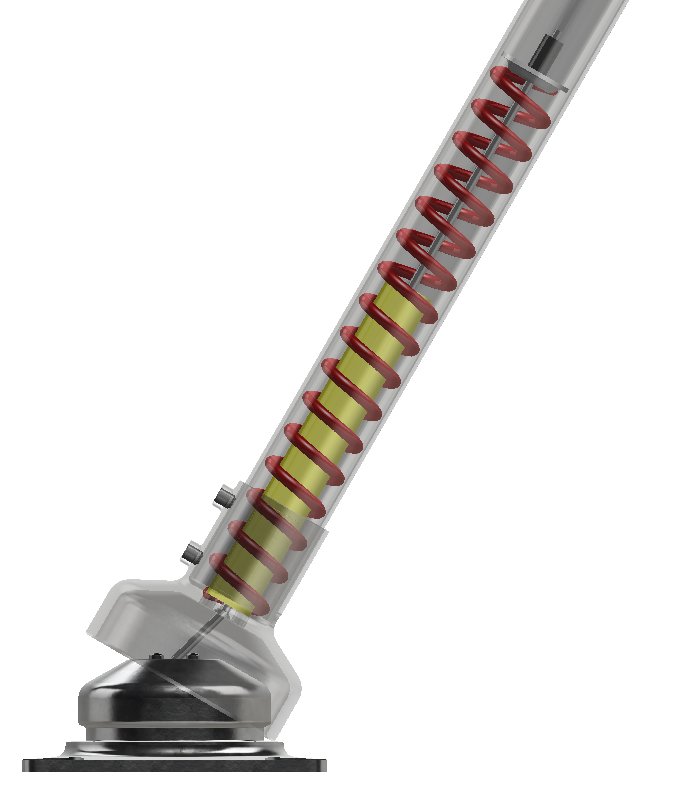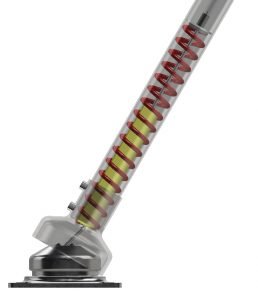 Figure 1.


Figure 2.
Follow us on Twitter (@Flexpost_Inc) and like us on Facebook (FlexPost Inc) for updates on smart cities and parking industry news!