Looking to equip your grocery store parking lot with curbside pickup parking spaces? FlexPost® can help you save thousands of dollars annually in parking lot repair costs while keeping customers safe and branding your stores. Here are a few advantages of installing FlexPost flexible sign posts and bollards over traditional u-channel posts, core-drilled bollards encased in concrete, or mobile sign bases filled with water or sand – for online order pickup, ADA parking, and other reserved spaces.
DURABLE: Made of steel and built to withstand the rigors of a busy grocery retail parking lot.
FlexPost manufactures a heavy-duty XL line designed for frequent impacts from vehicles which includes flexible signposts, bollards and bollards with signposts. Our rugged XL base is galvanized for durability and utilizes concealed spring technology to protect from weathering. The stability of our XL base allows for the signpost to hold either standard or large regulatory signs. Aluminum sign brackets are included with the FlexPost-XL™ and FlexBollard-XL™ with Signpost.

EASY TO INSTALL: Installs easily within 30 minutes. No special tools or bulky equipment needed.
The installation of traditional bollards and sign posts can require heavy equipment, the mixing of concrete and specialized tools. Oftentimes, areas of the parking lot need to be cordoned off for safety. FlexPost signposts and bollards are easily installed by simply drilling 4 holes and inserting/tightening the bolts with a wrench. Assembly/mounting instructions and the required hardware are included in the box, and installation can usually be accomplished with minimal time and labor.
INCREASE SAFETY: Eliminates hazards caused by broken signposts and bollards.
The unsightly appearance of bent or broken wayfinding signage detracts from the appearance of the store, creates an impression of disrepair, and can be dangerous to pedestrians. Even a minor collision with a rigid bollard can cause damage to the signpost, the automobile, and the parking lot surface.
LOWER COSTS: Reduces expensive labor, repair and maintenance costs.
Collisions involving customers and retail Buy Online, Pickup In-Store (BOPIS) signage within a parking lot has become a major issue causing millions of dollars' worth of damage per year. As of 2019, an average retail organization would replace approximately 2-3 signs and posts per year, both in the ADA handicapped and BOPIS aisle, with an average cost of $900 +/- per required repair. Now that retailers are adding multiple signs/posts to their already crowded and confused lots, the car/post accidents are escalating. Read more in our retail case study.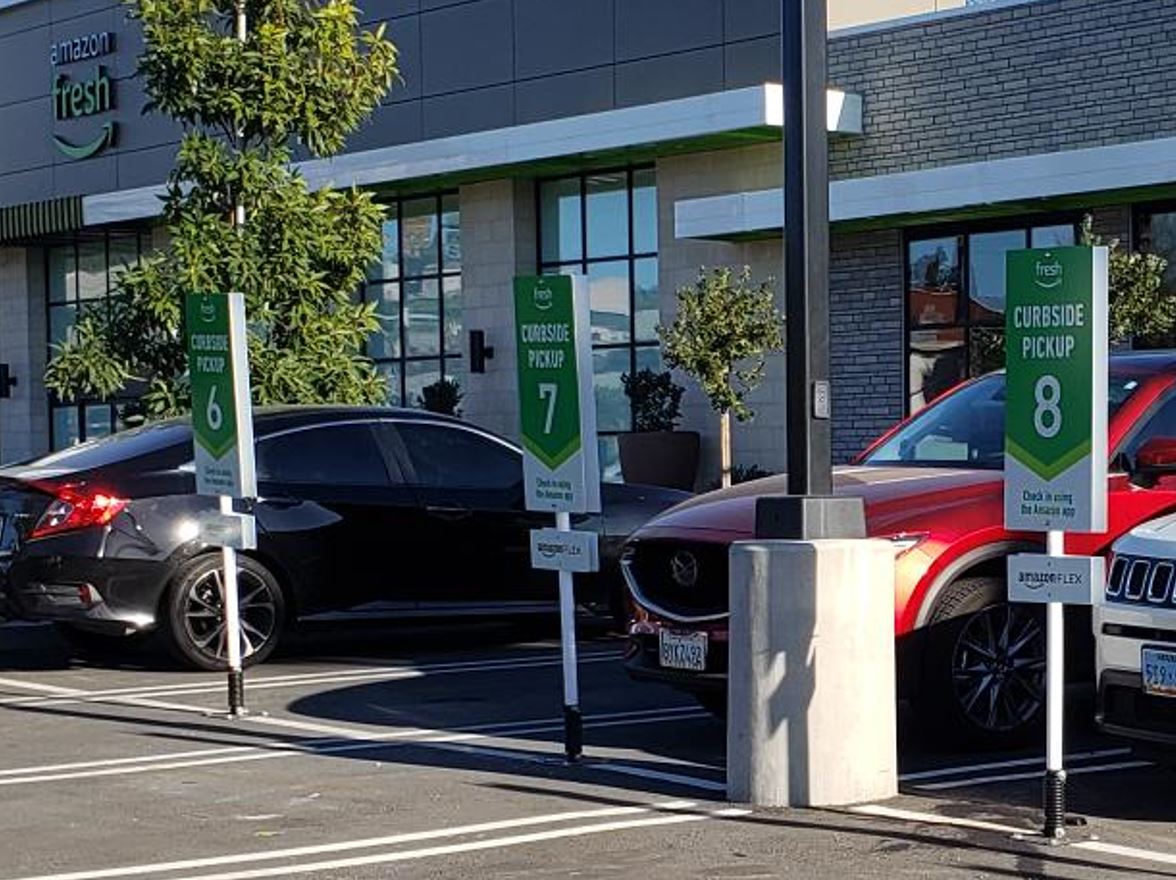 CUSTOMIZABLE: Brand your parking lot with your logo and colors.
A supermarket's parking lot has been playing an increasingly larger role in influencing the customer's experience and perception of that organization's brand image. As more customers choose to order their groceries online and pick up at the curbside, the opportunities to communicate with, or influence the customer at the point of sale continue to diminish. This begs the question of how to best position a store's brand – when the sum of a customer's interactions consist of an app, a parking space, and the store employee who runs out the groceries. This creates a necessity for delivering on the brand image where the customer will be spending their time at the supermarket – that is, waiting for their groceries to be delivered while temporarily parked in a reserved parking space. FlexPost bollards can be customized to match virtually any color, and corporate logos can be added, serving to differentiate a store from the competition. The post height and number of sign brackets (and number of signs per post) can also be specified, providing opportunities for a variety of signage applications.
Use our Configurator to customize your FlexPost!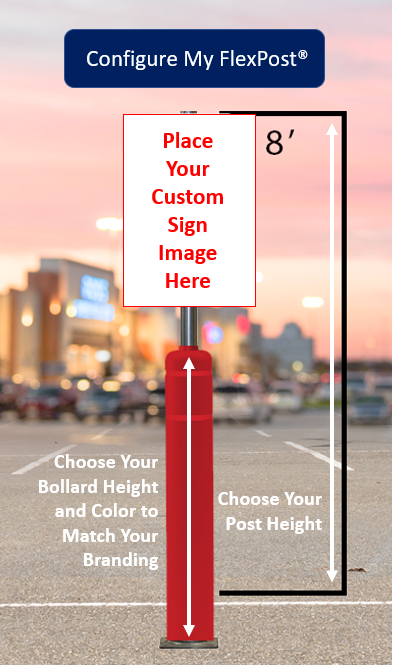 MAINTAIN ADA COMPLIANCE: Meets ADA height and sign size regulations.
ADA handicap signage requires that the bottom edge of the sign must be more than 5 feet from the ground. Also, the size of the handicap parking sign must not be smaller than 12″ x 18″. For every six accessible parking spaces, one van accessible space is required. A site with four or fewer parking spaces is not required to have signage for a van-accessible parking space. Our FlexPost-XL and FlexBollard-XL with Signpost are designed with ADA requirements in mind. Our 8 foot post is recommended to ensure ADA signs are kept in high-visibility, and our heavy-duty XL base supports both regular-sized and large regulatory signs.  Get 10 quick facts about ADA handicap parking here.
HAPPY CUSTOMERS: Accidents happen – minimizes damage to vehicles.
A customer who has been involved in a parking lot accident will likely not shop that store on the day of the impact. This could also result in a costly repair to the patron's vehicle, and possible litigation to the property owner or management company. If a vehicular impact simply flexes a signpost, the usual result is a pleasantly surprised customer that simply backs up, gets out of the car to assess the vehicle and realizes there is no damage, and then either heads into the store or continues on with his or her day.
FlexPost would like to assist you with your supermarket parking lot project. Contact us today for a quote.
Featured Articles
"6 Grocers Leading in Curbside Pickup" – Winsight Grocery Business – Brought to You  by FlexPost
"Create a Seamless Experience for Curbside Pickup" – Winsight Grocery Business – Sponsored by FlexPost
"The Power of Parking Lots" – Progressive Grocer – Featuring FlexPost