HOLLAND, MICHIGAN – Curbside pickup has become known by many names across various organizations, including online pickup, curbside service, curbside care (healthcare facilities), BOPIS (Buy Online, Pick-up In Store), Click and Collect, Instacart, DoorDash, Shipt, and others.
Regardless of its chosen nomenclature, there is little debate in the fact that curbside pickup has taken supermarkets, retail stores, restaurants, and many other customer-centric organizations by storm – a trend that has been greatly accelerated by the pandemic.
This is a challenge that caught retailers off guard – because when site plans were approved for older stores, parking lots were not configured to accommodate large volumes of customers picking up orders. Now retailers have entered a new optimization phase that resembles the process that typically occurs inside a store, where there has historically been a strong focus on the touchpoints of store experience. There has been less of a focus outside of the store, but a recognition has been growing that parking lots are a unique environment that requires a special focus.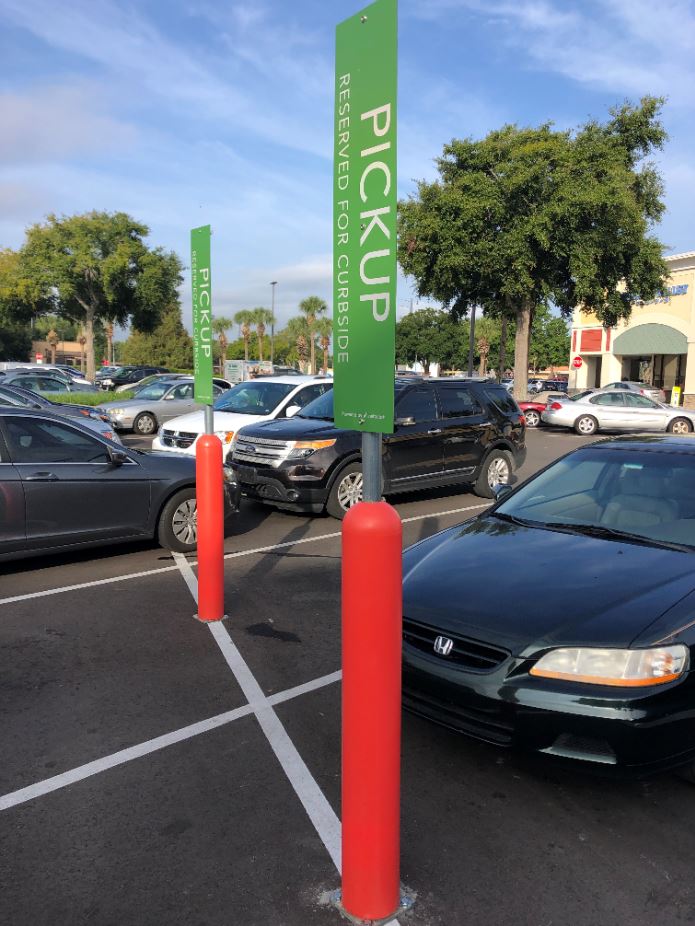 "The many touchpoints that were normally happening inside a store have been reduced – to the curbside pickup app on a customer's phone, the parking lot, and the parking space signage," states John DeYoung, FlexPost® General Manager. "Retailers and business owners are adding navigational and instructional signs to not only help customers figure out where to go, but to also bring the brand experience right to the curbside."
FlexPost offers the ideal solution for curbside pickup signposts, which has proven to be essential in transforming retailers' parking lots into highly influential path-to-purchase touchpoints. The FlexPost-XL line of heavy-duty flexible signposts and bollards are quick to install, offer significant cost savings and are built tough – to withstand the rigors of busy retail parking lots.
In addition, bollards can be customized to match virtually any color. Signs can also be custom-designed to include logos and other corporate branding elements. Test drive the FlexPost product configurator here.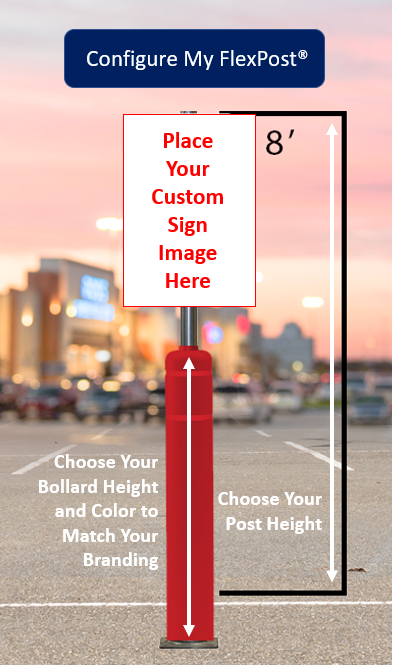 "A FlexPost will act like a signpost when it needs to, but it is also going to flex when someone's foot slips off the brake or they aren't paying attention," DeYoung explains. "Instead of the front bumper impacting a concrete-filled pipe, it meets something that gives. The post is OK, the car is OK, the customer is happy their vehicle wasn't damaged, and the retailer avoids a repair. Everyone has a good day."
About FlexPost Inc.
Started in 2006, FlexPost, Inc. (www.flexpostinc.com) has grown into a market-leading manufacturer that helps organizations manage traffic and keep people safe as they prepare for curbside pickup, ADA parking, and other reserved parking spaces. FlexPost manufactures parking lot flexible signposts and bollard systems that save retailers, restaurants, hospitals, universities, airports, and other types of facilities thousands of dollars annually in parking lot repair and maintenance costs.
Inc. magazine recently announced that FlexPost Inc. was included on its 2021 Inc. 5000 Regionals: Midwest list. Born of the annual Inc. 5000 franchise, this regional list represents a unique look at the most successful companies within the Midwest economy's most dynamic segment – its independent small businesses.
Contact FlexPost today!