Electric vehicle (EV) charging stations are becoming increasingly prevalent in the parking lots of retail stores, supermarkets, restaurants, office buildings, and other types of facilities.

As electric vehicles become more commonplace, customers are relying on the convenience of parking lot EV charging stations more and more. Installing a charging station provides an opportunity to further differentiate your organization, and maintain a higher degree of relevancy with your customers. 

Benefits of Installing EV Charging Stations in Your Parking Lot
Charging stations offer a number of ways to generate value beyond just charging for use. Installing charging stations can attract drivers who then patronize your business, retain valuable employees, and provide a sense of your environmental stewardship. That is, the availability of charging stations supports a brand identity in which sustainability is an important factor. In addition, some station owners have sold advertising space on their charging stations, creating a new revenue stream.

The Importance of Signage for EV Charging Stations
Well-placed signage helps EV drivers navigate to EV charging station parking spaces. Signage also helps prevent EV charging spaces from being occupied by non-EV drivers.

Signs in private parking facilities are not required to meet Federal Highway Administration (FHWA) Manual on Uniform Traffic Control Devices (MUTCD) standards, but owners and operators are encouraged to do so because it promotes uniformity and clarity.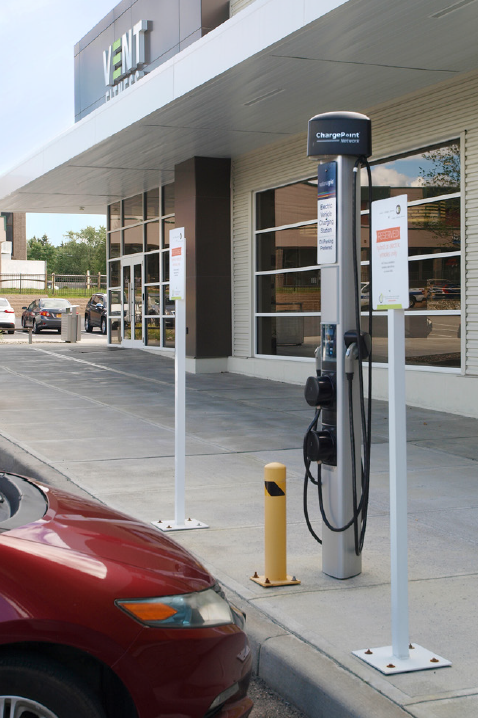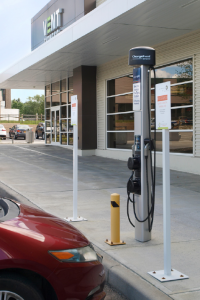 EV Charging Station Signage Best Practices
Although EV charging stations are still a relatively new phenomena, there are some cities and states where standards have been put into place. Below are some best practices that the New York State Energy Research and Development Authority recommends when installing EV charging stations.




A blue general service (wayfinding) sign should be used to provide general guidance to the charging station (using white arrows) and to identify the EV charging space.
Regulatory signs are used to enforce which vehicles are eligible to park in charging station parking spots, as well as the time duration that EVs are permitted to park and/or charge at the station.
Trailblazing (special) signs are used to provide drivers and visitors with additional information (funding source, sponsorship, etc.) and can include any logos, shapes, and colors as part of the signage theme at the site.
Another effective strategy for distinguishing the EV charging space is to paint the entire space green or mark the pavement with an EV charging symbol.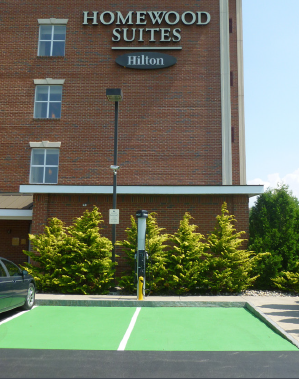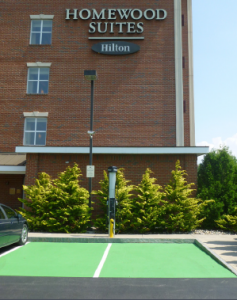 Flexible Signposts and Bollards for EV Charging Station Signage
Flexible signposts can be very beneficial for showcasing the various types of signs needed for both pointing the way to an EV charging parking space, as well as the signage at the charging station itself. FlexPost® offers flexible signposts in both a standard and a heavy-duty XL version.

Our FlexPost-XL™ is ideal for heavily-trafficked parking lots, and includes a rugged galvanized coated steel base with hidden steel spring. Signpost heights are available in 6′, 8′, or 9′. Your choice of anchoring hardware is included for heavy-duty asphalt, concrete or natural ground surfaces (XL ground spike). Adhesive anchoring is also available.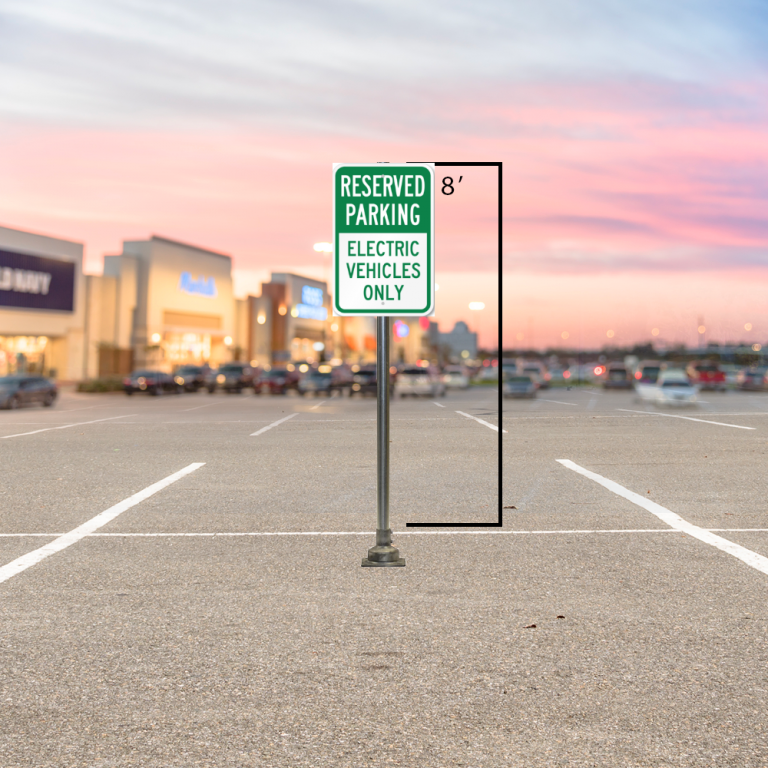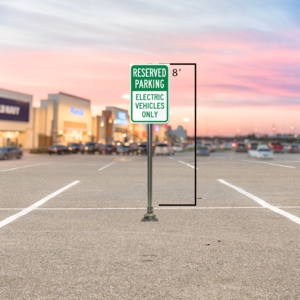 Flexible bollards can give the appearance of a concrete core-drilled bollard (thus deterring impact) but actually flex when they are struck by a vehicle. This minimizes damage to the vehicle and parking lot, while still effectively marking the boundary.

Flexible bollards can also include a signpost, which allows for signage to be displayed while maintaining a rigid bollard appearance. FlexPost offers both our FlexBollard™ and FlexBollard with Signpost in standard and XL versions. Bollards are available in blue, red, yellow or black, with various color options for reflective tape. Bollard colors can also be custom-matched to your organization's branding guidelines.