The Pandemic Has Made Restaurant Parking Lots Extremely Relevant
The importance of the parking lot for restaurants soared during the course of the pandemic, especially as it relates to curbside pickup. Because patrons were not able to get out of their vehicles and enter a restaurant, the only option became curbside take-out. Essentially, the previously unconsidered parking space became the sum of a patron's interaction with that facility, and thereafter parking lots had to begin working very hard to deliver a positive customer experience.
Curbside Pickup and Drive-Thru for Restaurants Is Here to Stay
As restaurants have opened back up, many patrons continue to prefer curbside pickup/take-out due to the convenience it offers, or opting to use the drive-thru. Quick-serve restaurants and fast casual dining establishments have especially seen an increase in traffic via the drive-thru lanes, including moves to multiple lanes, orders being taken in advance of the pick-up window, and designated overflow areas where customers can be directed to wait for their orders without holding up the line.
In addition to the need for operational considerations for streamlining order taking and speed to delivery, traffic must be directed using delineators, signposts and parking/wayfinding signage.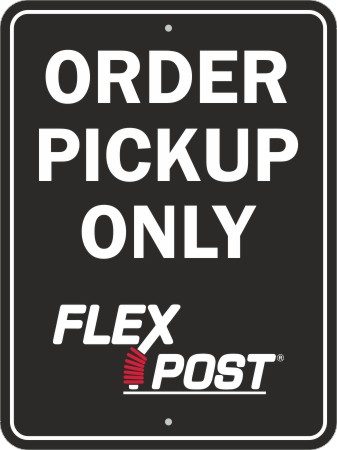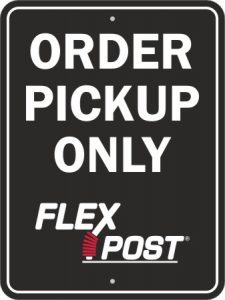 FlexPost® Offers the Ideal Solution for Busy Restaurant Parking Lots
FlexPost has had the privilege of working with several restaurant owners and restaurant facility maintenance professionals in helping to manage traffic and keep patrons safe as they prepare for curbside pickup, ADA parking, and drive-thru overflow/lane delineation.
We manufacture flexible signposts and bollard systems that save restaurants and other types of facilities thousands of dollars annually in parking lot repair and maintenance costs – while at the same time, improving the customer experience. Our FlexPost-XL line of heavy-duty flexible signposts and bollards are quick to install, offer significant cost savings and are built tough – to withstand the rigors of heavily-trafficked parking lots.
Visualize Your Next Restaurant Parking Lot Project with our Product Configurator
Flexpost is here to help you promote your brand and bring the customer experience to the parking lot while keeping your patrons happy. See how a FlexPost could look in your restaurant parking lot with our Product Configurator.
Visit our Restaurants Applications page to learn more.
Contact us today!