Signage design and implementation are important factors in ensuring a positive customer experience.
And now, more than ever, the customer experience begins in the parking lot!
The purpose of this blog is to provide an overview of the most important considerations (listed in no particular order) when designing your curbside pickup program, whether it's for a supermarket, retail store, restaurant, healthcare facility, or other type of heavily traversed parking lot.
LOCATION
One of the first considerations for curbside pickup is where to position the bollard/signpost, and the optimum direction the signs should be facing for curbside pickup customers. For example, Angle Parking is considered the most common configuration for parking lots and has the advantage of allowing for double-sided signage. That is, a second sign can be mounted back-to-back on the signpost using double-sided sign brackets. This creates efficiencies as one bollard/signpost can be utilized for two parking spaces. Read our "Curbside Pickup Signpost Placement Guide" blog posting to learn more about this topic.
Another consideration is the location of the service door and the delivery path for taking purchased products out to vehicles. Delivery personnel must be kept safe, while at the same time focusing on expediting orders and efficiency. Travel time both out, and then back into the building should be minimized, as well time spent in the path of traffic. This includes cars that are backing out of spaces where driver visibility is limited.
Pedestrian foot traffic considerations are also important. Access in the form of walkways should lead customers safely from the parking lot to the front of the building , but not cross into curbside pickup parking and delivery activities.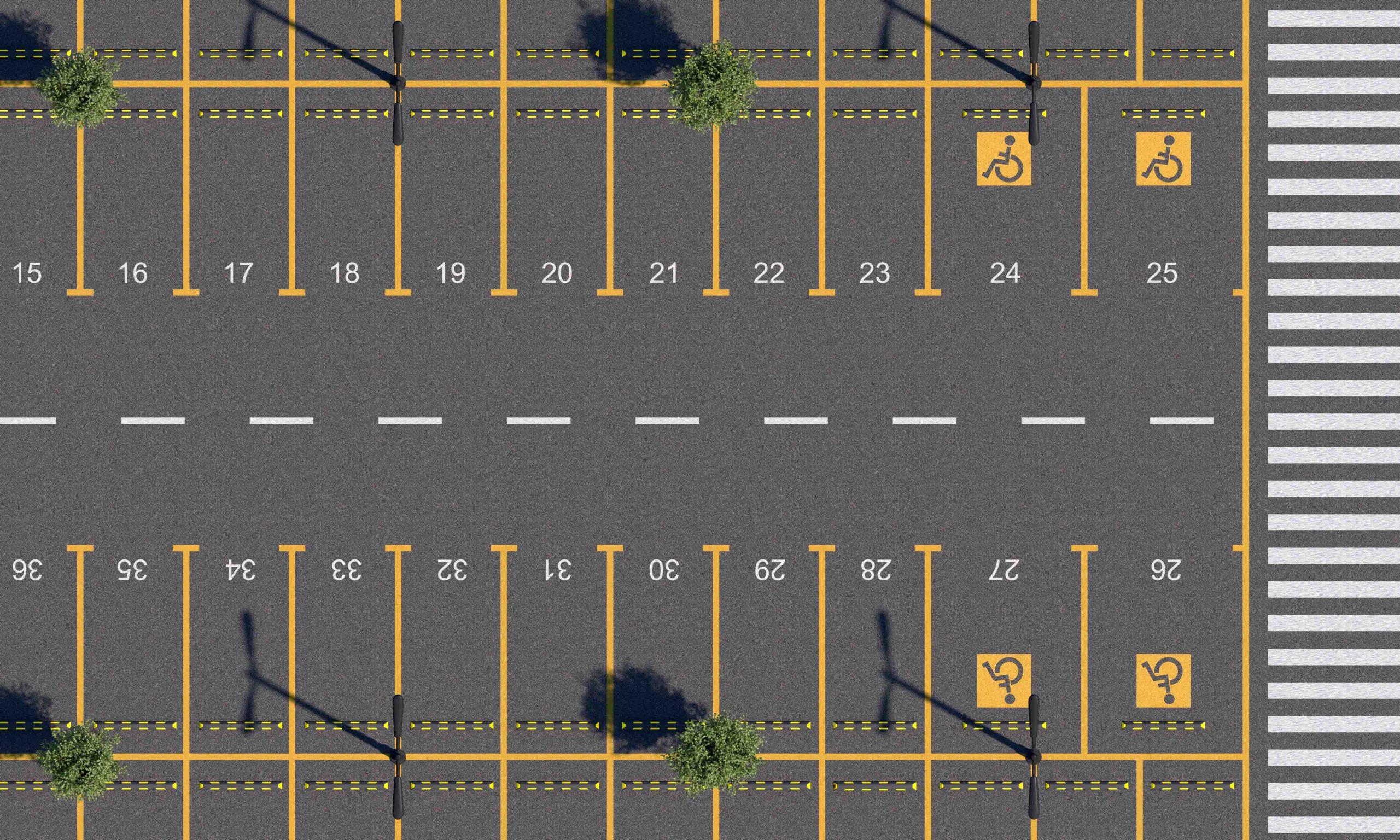 TRAFFIC FLOW PATTERNS
How vehicles enter your parking lot, move in and out of parking spaces, and ultimately exit, can become greatly magnified as volume of traffic increases. What seems like a minor issue can become a much bigger problem during peak hours, especially when cars are backing out of spaces with other vehicles also backing out in the row behind them. Angle parking can also help with these blind spots, and has become a popular retail parking lot layout. However, all aspects of the property must be taken into consideration.
DEDICATED PARKING SPOTS FOR CUSTOMERS
Having dedicated parking spaces for curbside pickup customers may seem like a no-brainer. However, striking a balance between curbside spaces and other types of parking spots is something to consider for customers visiting your store. That is, it must also be convenient for customers parking and actually entering your store to find a spot and then make the trek to the entrance. Maintaining the proper number of ADA spaces is also an important part of maintaining ADA compliance.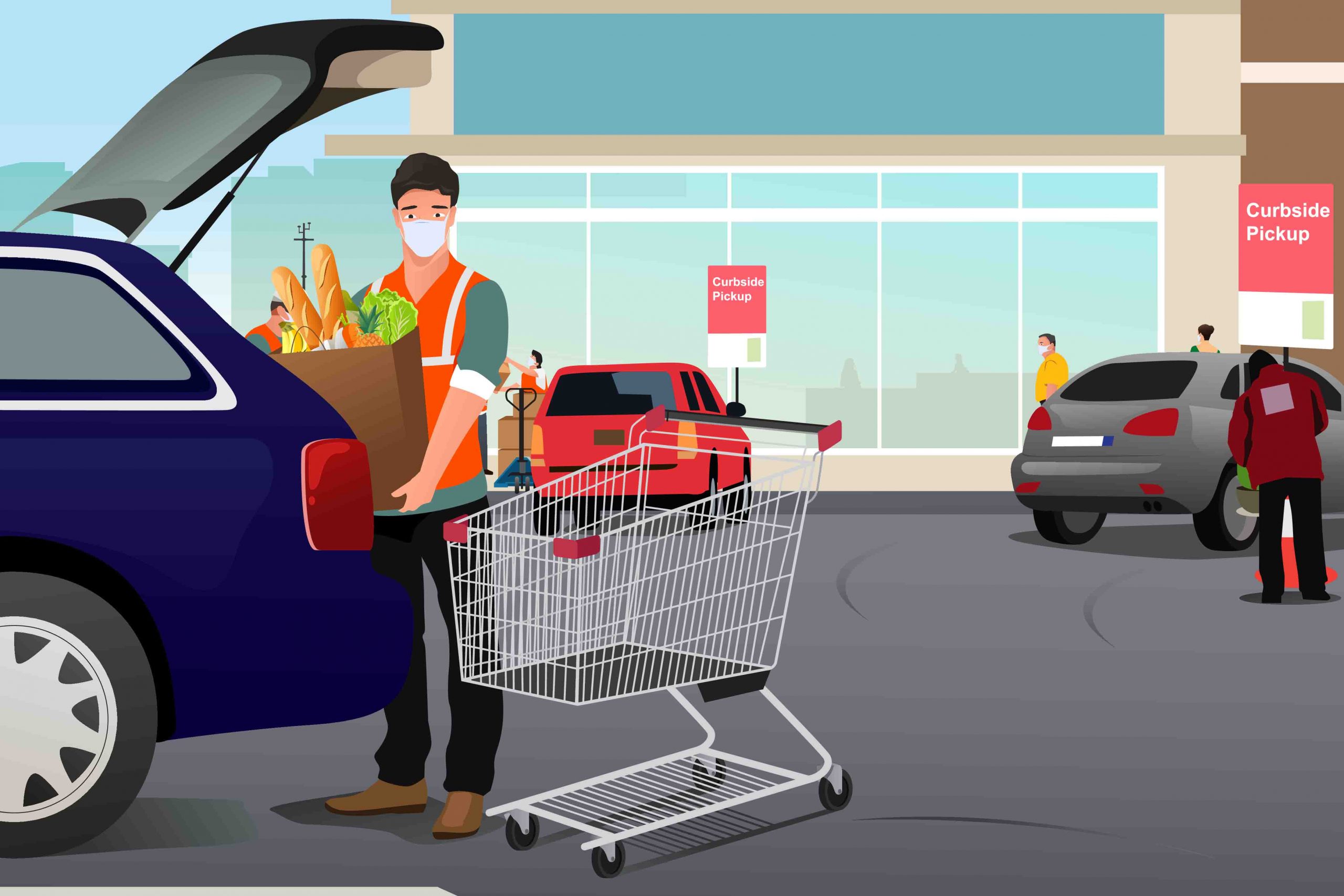 DEDICATED PARKING SPOTS FOR PERSONAL SHOPPERS
In addition to maintaining dedicated parking spaces for curbside pickup customers, in a supermarket situation, it is also important to consider where your personal shoppers may be parking. Again, this is where balance comes into play, as there are multiple types of visitors to your grocery store, all of which play an important role in the daily operations. You want to ensure that each respective group is accounted for, and has a place to park with the proper accommodations. Many details that seem small at first can add up quickly to create an overall impression of your store in the mind of the customer. And, of course, you want this impression to be positive.
SIGNAGE THAT CLEARLY COMMUNICATES/ORIENTS/DIRECTS
A recent BOPIS (Buy Online, Pickup In-Store) research study conducted by Bell and Howell and Intel found that 86% of customers stated that signs outside directing customers to the curbside pickup area are important, and 85% said it is important that the curbside pickup location is visible when driving into the parking lot. Similarly, almost half said they found the curbside pickup window because there were signs directing them.
Based on the results of this study, it is important to not only designate specific parking spaces for curbside pickup, but also direct customers using signage to the curbside pickup area upon entering the lot. This is especially important if curbside pickup service is new to the store and customers are not yet familiar with the process.
FlexPost offers signpost/bollard products that can be utilized both in parking spaces (installed in asphalt or concrete with supplied hardware) and near the entrance(s) to the parking lot (installed into landscaping using a natural ground spike). The option to mount into different types of parking lot surfaces allows for a variety of wayfinding signs to be employed. This helps orient customers and increases safety, while at the same time improving on the customer experience.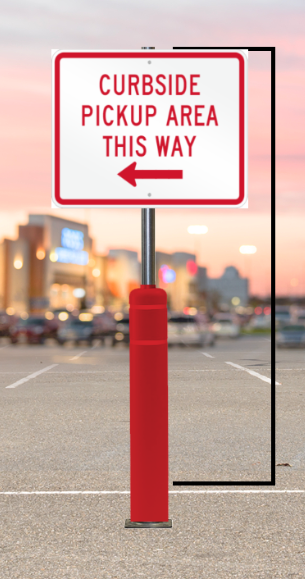 BRANDING
In addition to clearly communicating instructions, signage should also incorporate store/corporate branding elements, which provides for a consistent look and feel between in-store, website/app, and the parking lot. This can be accomplished using a second sign on the same post, or one sign that accomplishes both objectives. Fortunately, signs can be customized to include just about any type of artwork or messaging, as well as multiple sizes and shapes. Bollards are also available in a variety of standard colors, and pantone (PMS) chips can be matched for a custom color. Die-cut decals can also be designed and adhered to bollards for additional customization.
Our FlexPost® product configurator serves as an idea starter, and allows you to customize your signpost/bollard around five different variables to help you visualize your project. Click on the image below for a test-drive. Once you've configured your post, you can simply click a button to download your customized image as a .png file to easily share with your team over email.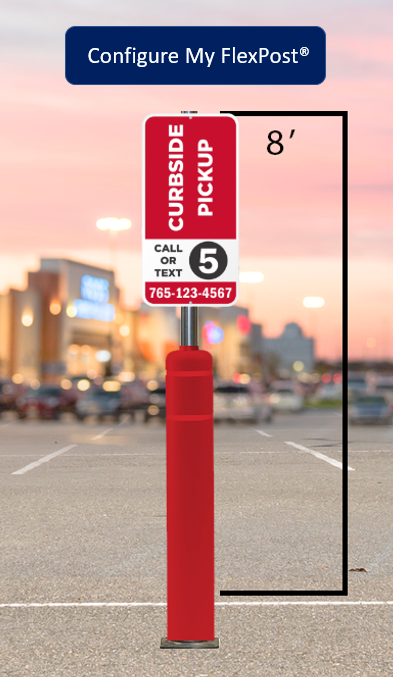 EASE OF INSTALLATION
Core-drilled bollards have their place in protecting a storefront, utility boxes, gas station pumps, etc. However, because they do not flex, they are not the ideal solution for parking space signage – as damage can be caused to both the customer's vehicle and the parking lot upon impact. Also, the installation of a concrete-encased core-drilled bollard involves heavy equipment, the mixing of concrete, several hours of labor, and oftentimes cordoning off the parking lot.
FlexPost® offers a flexible bollard solution that not only saves money by eliminating damage to the parking lot and customers' vehicles, but also makes installation a snap. In fact, most of our customers have installed our FlexBollard-XL™ with Signpost in less than 30 minutes, with no special tools or bulky equipment needed. Simply drill four holes and bolt down – all hardware, sign brackets, and installation instructions are included in the box. In the event that the parking lot needs to be reconfigured, simply take out the four bolts to remove the bollard. Then, either replace the bolts in the empty holes, or fill them in.

FlexPost can also scale up with your program. Adding posts is easy with our fast lead times and large inventory of products. Some customers run curbside programs with just two posts, while others choose to have more reserved spaces. With the simplicity of installation and minimal disruption to the parking lot, FlexPost provides the ideal solution for creating additional parking spaces.
CLEARANCE FROM LANDLORD – PERMITTING, PERMISSION, ETC.
An important factor that is not always considered during the early stages of planning resides in the fact that many buildings/parking lots are actually part of leased property, and can require permissions for even minor construction or improvements. This is where a quick and simple installation can also be beneficial. That is, drilling 4 holes into asphalt or concrete (that can be filled in later if need be) can be a much easier sell to a landlord for approval than the major undertaking of installing or replacing a concrete-encased core-drilled bollard.
DURABILITY
When considering curbside signage solutions , it's important to look at signposts/bollards that are designed to withstand the rigors of a busy parking lot. FlexPost manufactures a heavy-duty XL line designed for frequent impacts from vehicles which includes flexible signposts, bollards and bollards with signposts. Our rugged steel XL base is galvanized for durability and utilizes concealed spring technology to protect from weathering. The stability of our XL base allows for the signpost to hold either standard or large regulatory signs, and can stand up to windy conditions.

We consider our XL base to be a semi-permanent to permanent solution for curbside pickup, ADA, and other reserved spaces. That is, even though installation can take less than 30 minutes, this heavy-duty base is designed to withstand repeated hits over the course of several years. Contrast this to a mobile/portable base, which may need to be reset after being struck by a vehicle, and are better utilized in applications where the ability to quickly reconfigure a parking lot is important. Examples of this can include: designated temporary parking, parking lot is full, no parking, and other quick-change or rapid-deploy applications.
COST SAVINGS
Damage to the parking lot can be costly. As of 2019, an average retail organization would replace 2-3 signs and posts per year, both in the ADA handicapped and curbside pickup aisle, with an average cost of $900 +/- per required repair. Now that retailers are adding multiple signs/posts to their already crowded and confused lots, the vehicle to signpost accidents are escalating. Read more in our retail case study.
Let us know how we can help!
Check out our index of additional blog articles for more info as you develop your curbside program, and if you have questions, contact us and let us know how we can help!