Curbside pickup has become known by many names across various organizations, including online pickup, curbside service, curbside care (healthcare facilities), BOPIS (Buy Online, Pick-up In Store), Click and Collect, Instacart, DoorDash, Shipt, and others.
Regardless of its chosen nomenclature, there is little debate in the fact that curbside pickup has taken supermarkets, retail stores, restaurants, and many other customer-centric organizations by storm – a trend that has been greatly accelerated by the pandemic.
Signage design and implementation is important to ensure a positive customer experience. A recent BOPIS study by Bell & Howell / Intel recommends focusing on design. This involved making sure signage is good, apps and websites are clear and easy to use, and that there is consistency across information sources. The study concluded that this will help meet the needs across customer groups with different preferences.
FlexPost® offers the ideal solution for curbside pickup signposts, which has proven to be essential in transforming retailers' parking lots into highly influential path-to-purchase touchpoints. Our XL line of heavy-duty flexible signposts and bollards are quick to install, offer significant cost savings and are built tough – to withstand the rigors of busy retail parking lots. In addition, bollards can be customized to match virtually any color. Signs can also be custom-designed to include logos and other corporate branding elements. Test drive our product configurator by clicking the image below: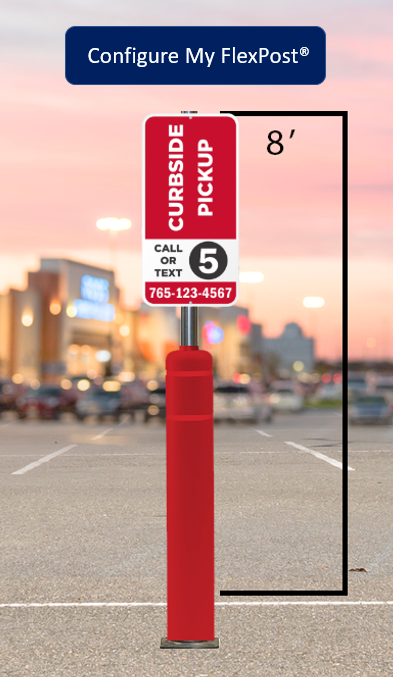 This blog post provides guidance on where to position the bollard/signpost, and the optimum direction the signs should be facing for curbside pickup customers. This is based on several common parking space scenarios, including:
Angle Parking (most common)
Angle Parking – mixed
Head-In Parking – sidewalk
Head-In Parking – narrow sidewalk
Head-In Parking – landscape bed
Parallel Parking
Angle Parking is considered the most common configuration for parking lots and has the advantage of allowing for double-sided signage. That is, a second sign can be mounted back-to-back on the signpost using double-sided sign brackets. This creates efficiencies as one bollard/signpost can be utilized for two parking spaces.
When a landscape bed is incorporated into the parking lot layout, a ground spike can be used to mount the bollard/signpost directly into the natural ground, about 10" in from the curb.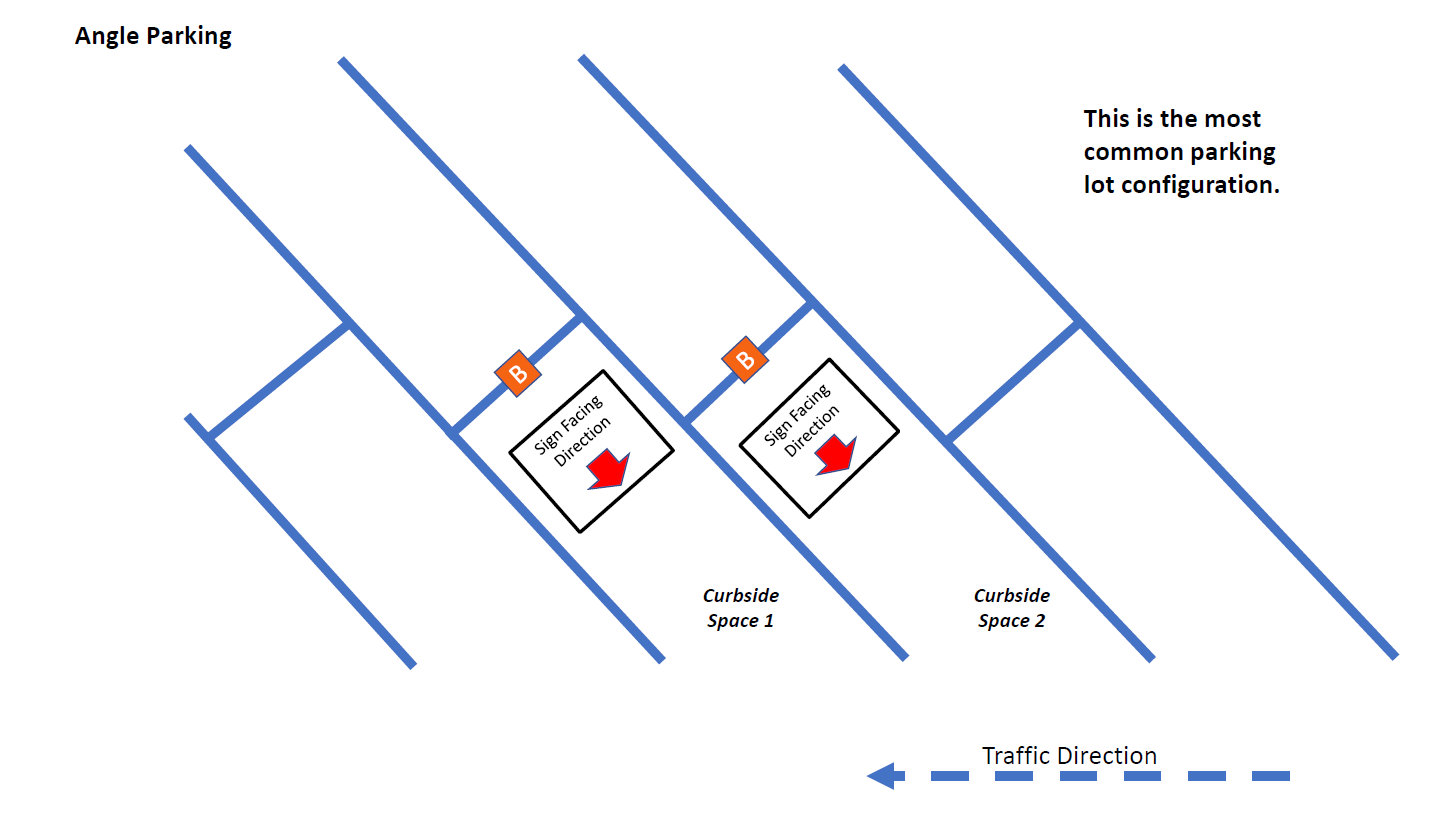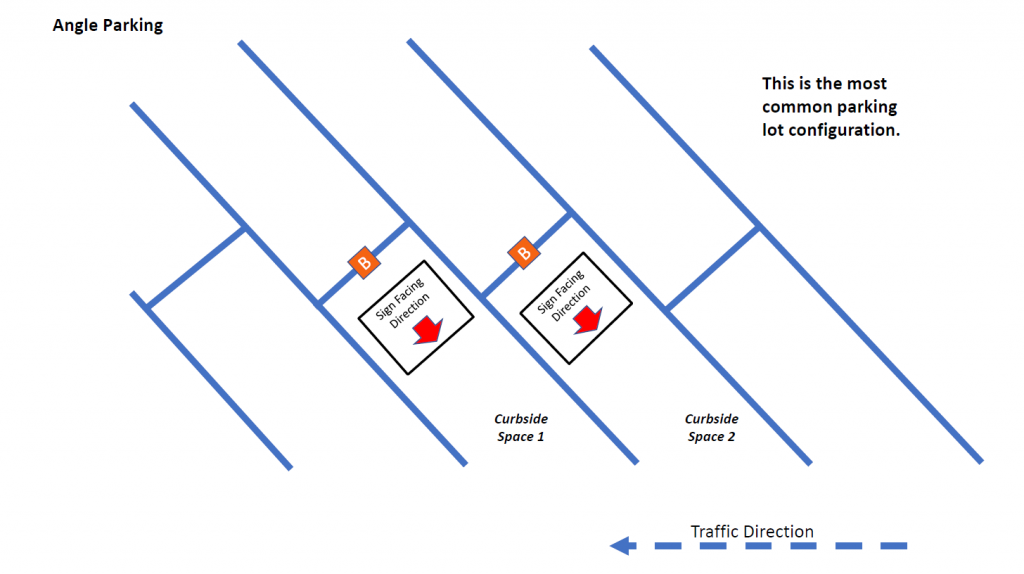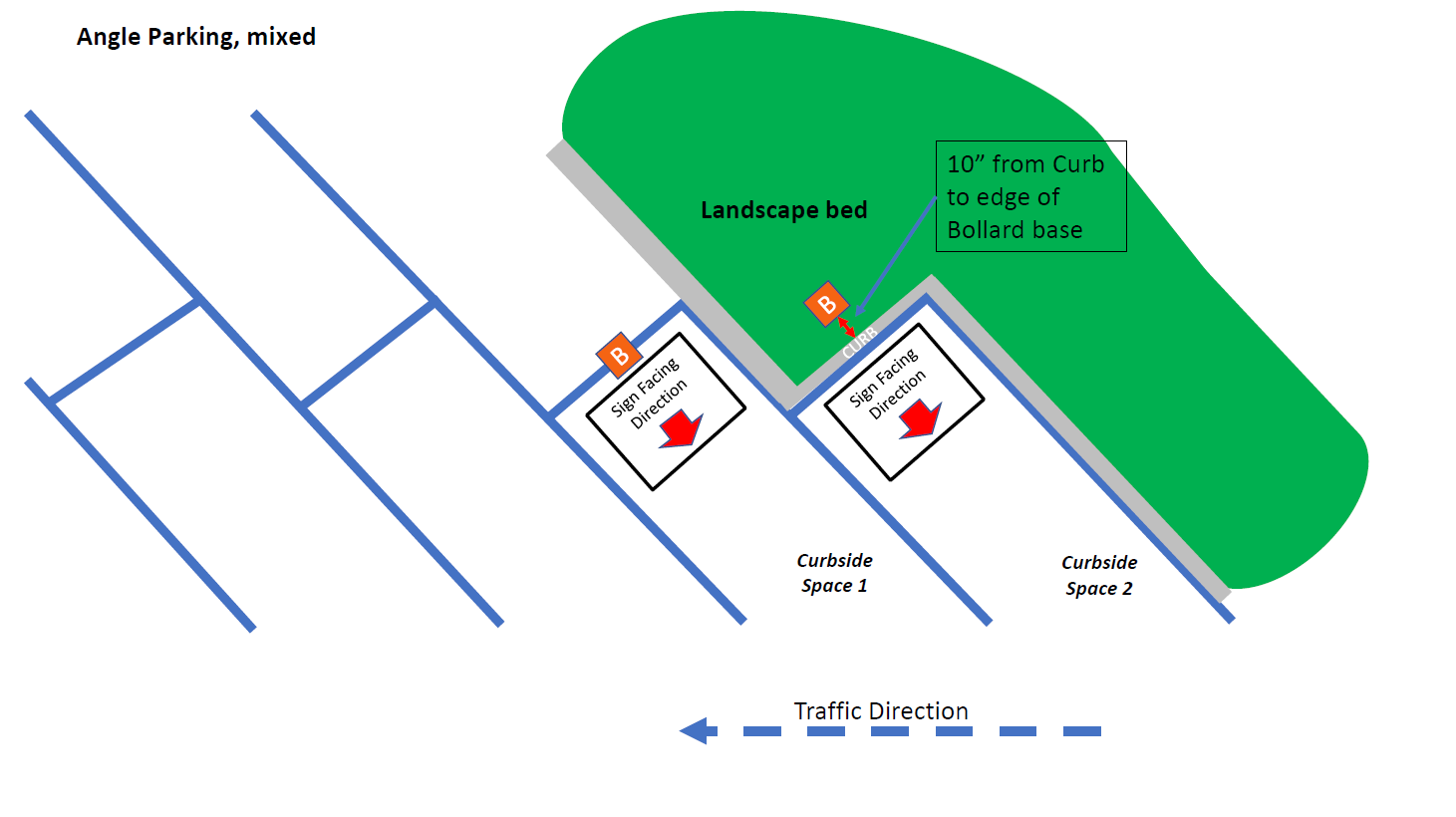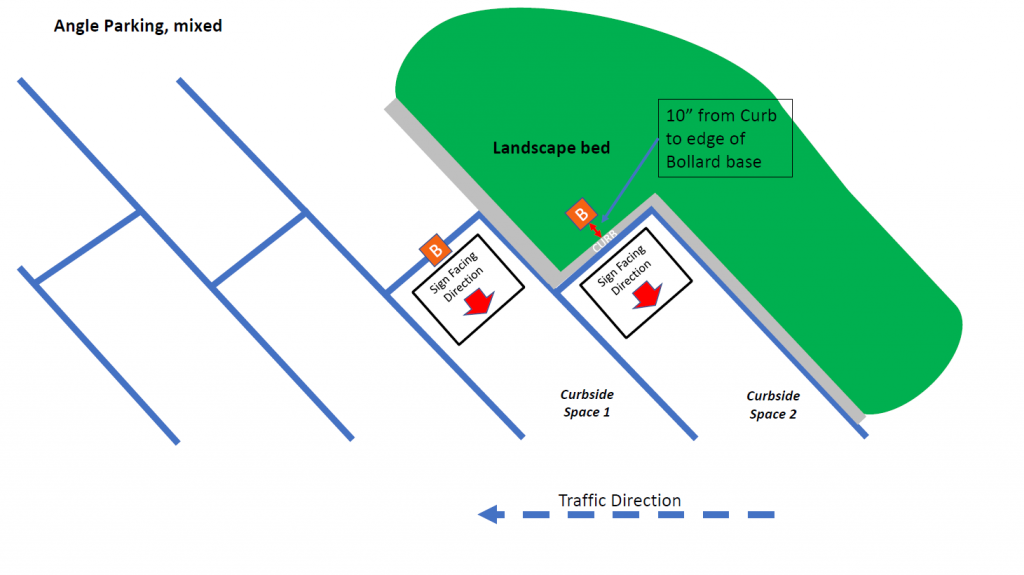 Head-In Parking is often utilized when a pedestrian sidewalk is present. A minimum 36" clearance is recommended from the post base to the edge of the sidewalk, and 10" from the curb to the edge of the bollard/signpost base. In situations when less than 36" clearance from the sign base to the edge of the sidewalk is available (Head-In Parking, narrow sidewalk) it is recommended that the bollard/signpost be placed 10" in front of the curb, to maximize walking space on the sidewalk.
It is important to note that if the post is placed less than 10" in front of the curb, the flexing spring could be incorrectly leveraged against the curb, resulting in the hardware that secures the base being pulled up or out.
When a landscape bed is utilized in place of a sidewalk, a ground spike serves as the ideal solution, about 10" in from the curb.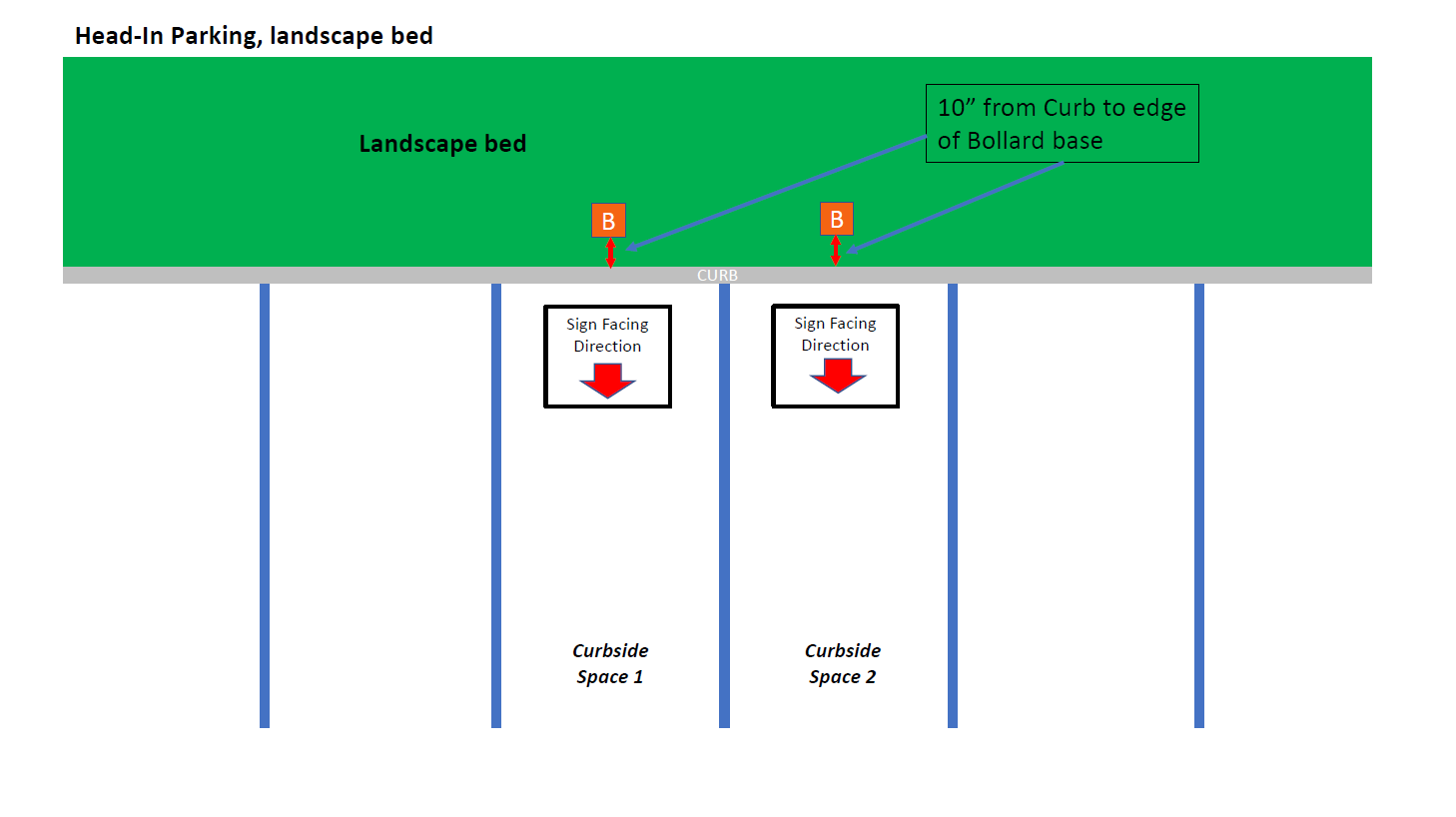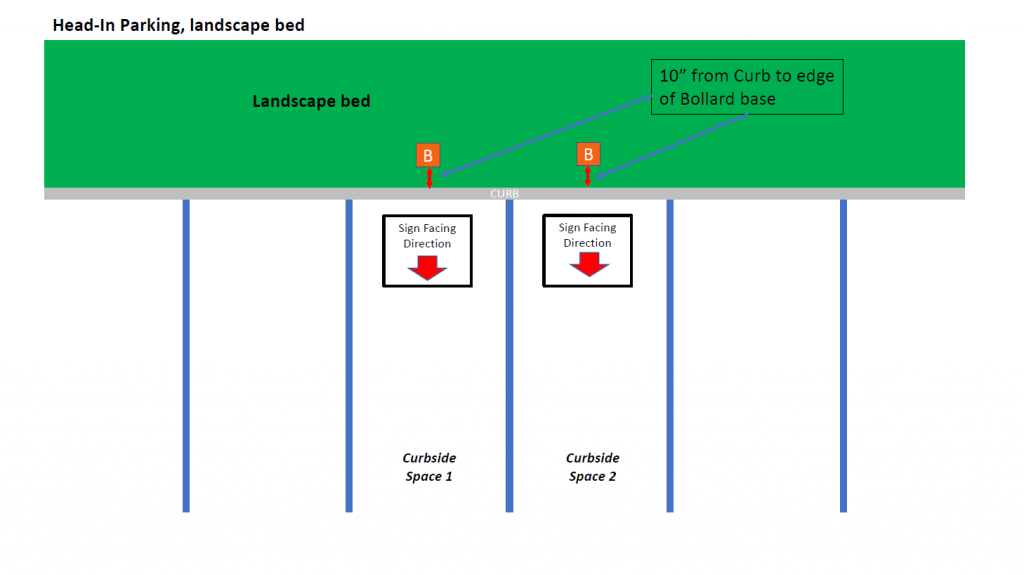 Parallel Parking requires a bit of a deviation from Head-In Parking, in that the bollard/signpost is installed to align with the front end of a vehicle, vs. centered between the parking space lines. This curbside pickup configuration is often used near the front of a store or restaurant when vehicles are moving in and out of a pickup area at a rapid pace, with minimal time available for each customer interaction.
This layout can be especially useful in a restaurant pickup situation, where hot food is placed into take-out containers and staged in an area just inside the building – with the ability for quick deployment as customers pull up in their vehicles.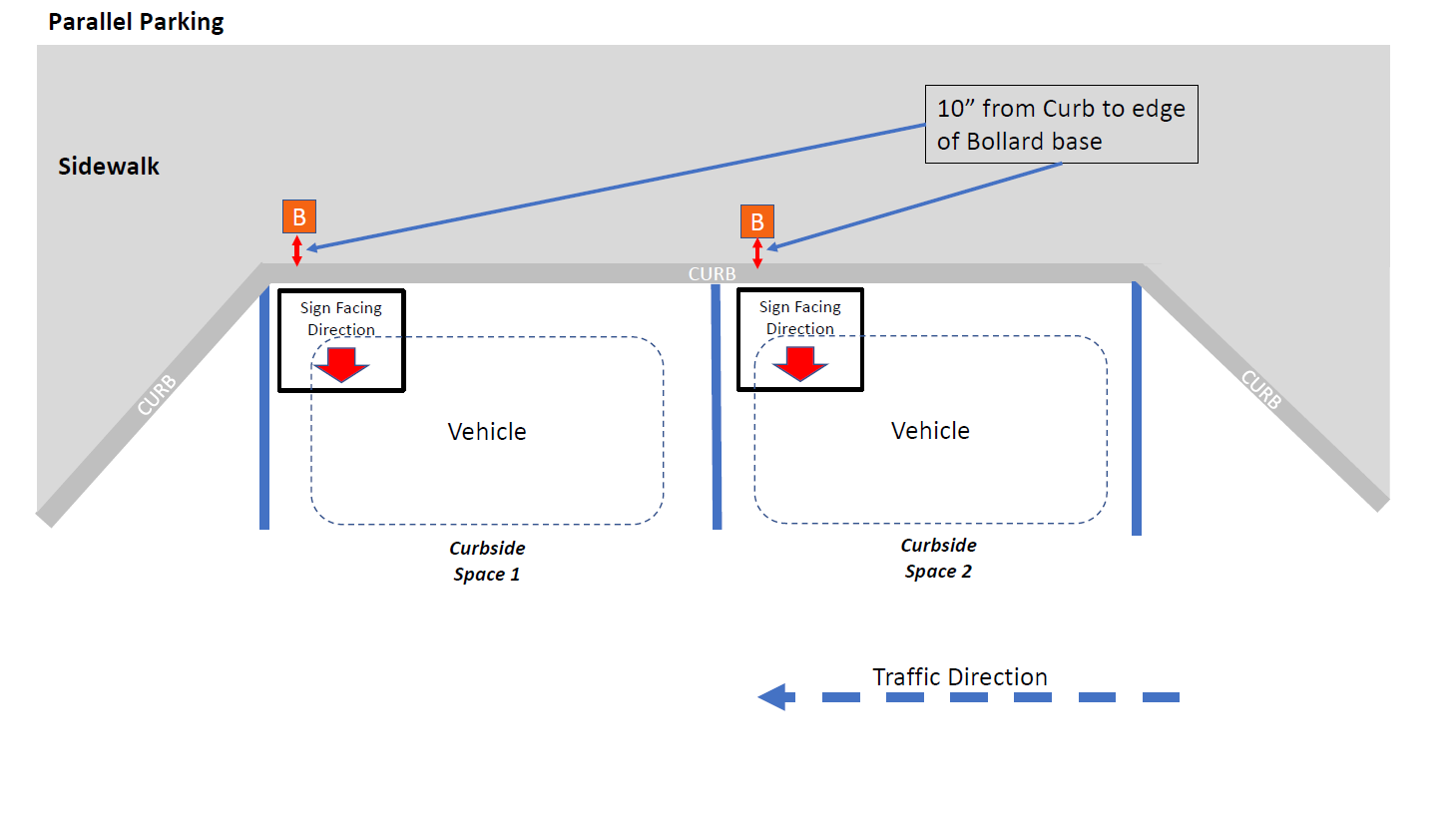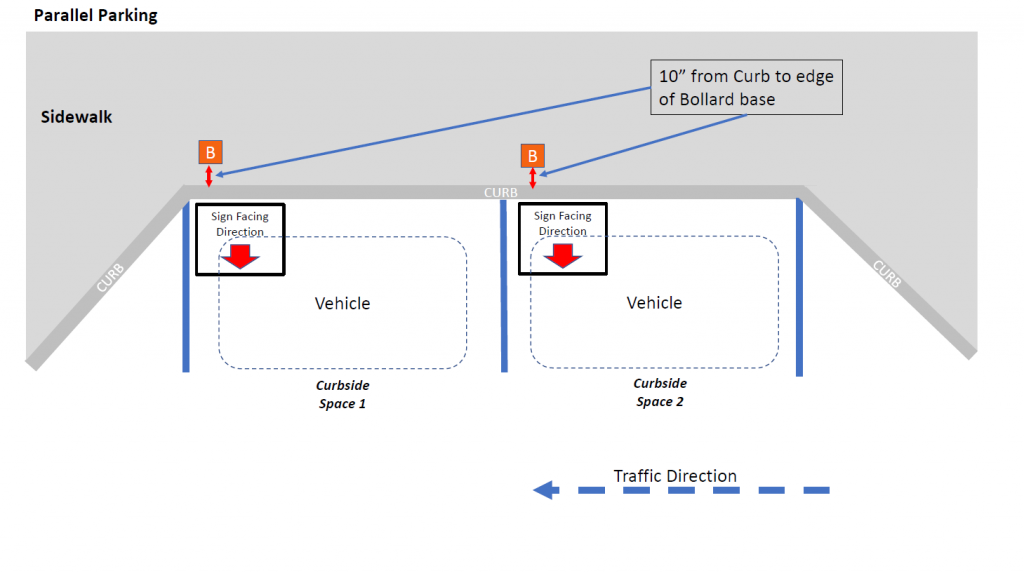 Whether you are outfitting a parking lot for a supermarket, hospital, restaurant, retail store, or something else, FlexPost is here to help as you design your curbside program. Visit our blog index page for more info and related topics, and then contact us to discuss your specific project.