One of the challenges we hear about from retail, restaurant, and other facilities maintenance professionals that reside on leased commercial property is in the process of obtaining landlord permission for installing signposts in their respective parking lots.
One of the main objections from landlords on the installation of signposts is due to the intensive drilling required for the installation of concrete-encased core-drilled bollards. Core-drilled bollards involve heavy equipment, the mixing of concrete, several hours of labor, and oftentimes, cordoning off the parking lot and limiting access to the shopping center.
FlexPost® offers a flexible bollard/signpost solution that not only saves money by eliminating damage to the parking lot and to customers' vehicles, but also makes installation easy. In fact, most installations of our FlexBollard-XL™ with Sign Post take less than 30 minutes, with no special tools or heavy equipment needed.

Simply drill four holes and bolt down – all hardware, sign brackets, and installation instructions are included in the box. In the event that the parking lot needs to be reconfigured, simply take out the four bolts to remove the bollard. Then, either replace the bolts in the empty holes, or fill them in for a cleaner look.
Core-drilled bollards have their place in protecting a storefront, utility boxes, gas station pumps, etc. However, because they do not flex, they are not the ideal solution for parking space signage – as damage can be caused to both the customer's vehicle and the parking lot upon impact.
In addition, damage to the parking lot can be costly to the business/property owner. The average retail organization replaces 2-3 signs and posts per year, both in the ADA and Curbside Pickup aisle, with an average cost of $1,500 +/- per required replacement. As retailers add multiple signs/posts to their already crowded and confused lots, vehicle/post accidents are escalating. Read more in our retail case study.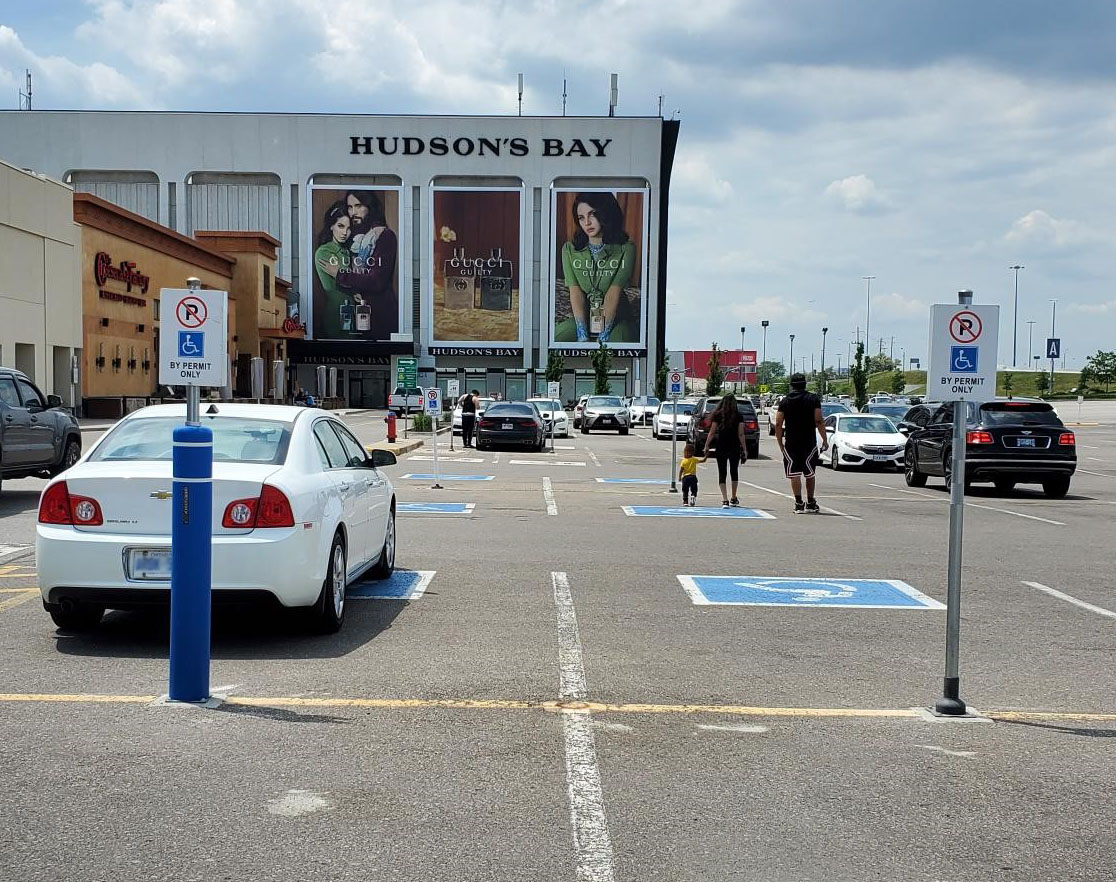 Our heavy-duty XL base can be easily installed in a few simple steps by drilling four small holes on the parking lot surface, and using the included anchoring hardware for either concrete or asphalt. FlexPost also offers a ground spike for landscaping beds/natural ground, and adhesive for use in parking garages. If any form of drilling in the parking lot is strictly prohibited, FlexPost can provide signpost solutions with a portable base.
Watch our video to see the quick and easy installation of the FlexPost-XL™ base using Heavy-Duty Asphalt (HDAA) anchoring hardware.
Contact us today to learn more about how we can help make your next bollard/signpost installation project easy, and save you and your landlord time and money on repair and maintenance costs. Also, try out our Configurator tool to visualize how our FlexPost-XL or FlexBollard-XL with Sign Post could look it your parking lot.