The challenge of directing parking lot traffic and keeping customers safe has become an increasingly important topic. As retailers, restaurants, and other organizations struggle with orienting traffic flows in and out of tight parking lots, many signage and wayfinding alternatives must be employed.
In some cases, portability is the most important factor, with an emphasis both on the ability to quickly and easily deploy signage, and then relocate or repurpose at a moment's notice. An example of this application could be a "parking lot is full" situation, reserving certain areas for event parking, curbside pickup during a limited timeframe, etc.
In other cases, more of a permanent and robust signpost application is in order. This is often the case for fixed signage applications such as handicap parking, BOPIS (Buy Online, Pickup In Store), expectant mothers, and other parking spaces where installing a heavy-duty solution can save thousands of dollars in repair costs over the longer-term.
FlexPost® offers parking lot signpost and bollard solutions to cover a wide variety of applications, ranging from ultra-portable to semi-portable, to semi-permanent to permanent.
Ultra-Portable to Semi-Portable Parking Lot Applications
Our FlexPost-SM™ signpost products are designed with parking lot safety in mind. This product line focuses on portability with the capability of ultra-quick deployment, taking only minutes to install – with no special tools required. The FlexPost-SM™ product line is very versatile: perfect for wayfinding or protecting areas with high pedestrian walking traffic, as well as designating temporary parking areas for grocery, restaurant or other types of curbside or online pickup.
Pyramid Sign Base System
Our Pyramid Sign Base System is ultra-portable, affordable, and tough. The base features a 1/4″ nominal wall thickness, with ultra-violet and anti-static additives. Sign brackets are included, which makes this signpost system an excellent value proposition. The base is lightweight for shipping (about 30 lbs.) and then can be filled onsite to hold up to 250 lbs. of sand or gravel or up to 22 gallons of water. (16 gallons is recommended for temperatures below freezing). Pyramid base colors are available in black, blue, red, or yellow. The post is composed of 14 gauge steel sleeved in HDPE plastic, which is color-matched to the base.

Channelizer Posts and Delineator Paddles
Our Channelizer Posts and Delineator Paddles offer 360° flexibility upon impact, utilizing a durable internal zinc-coated spring. Utilize our optional 18 lb. portable rubber base for rapid-deployment or when the ability to continuously reconfigure your parking lot is a factor. Or, mount directly to the parking lot surface or natural ground. Custom and standard safety decals are available.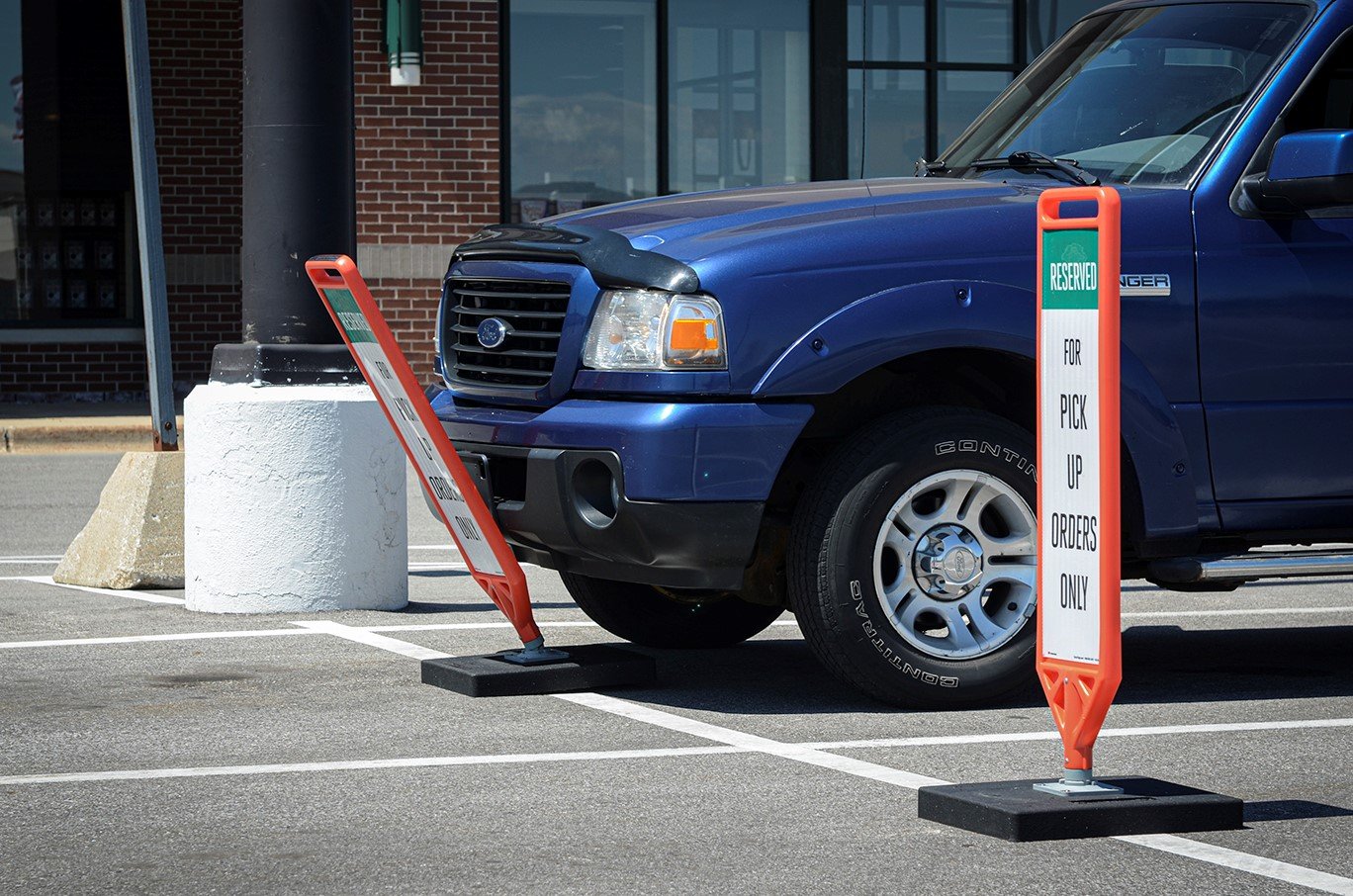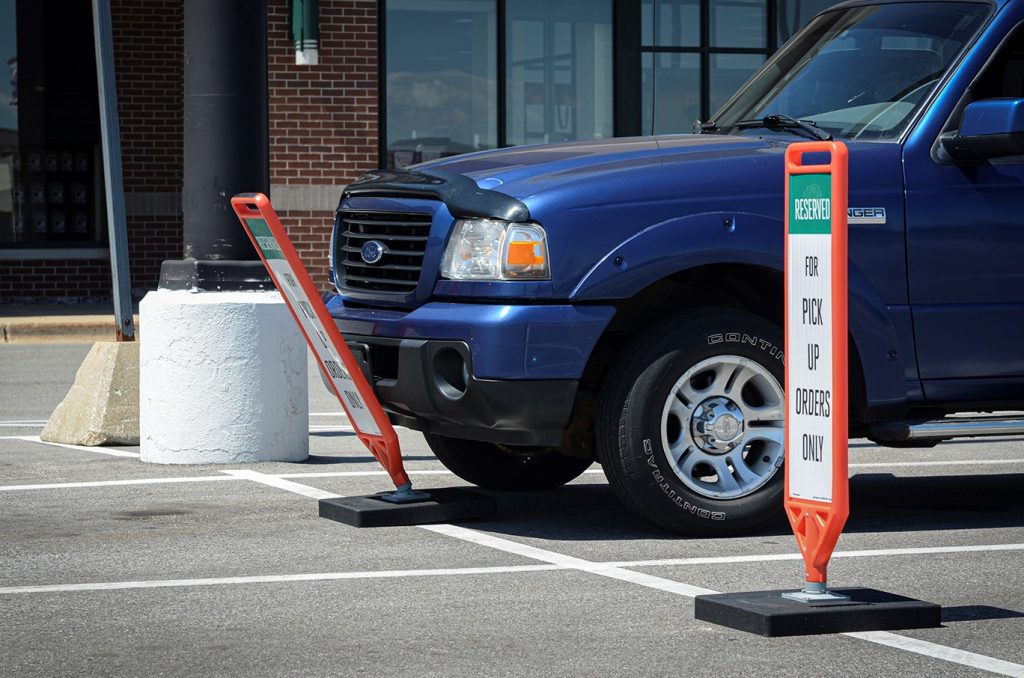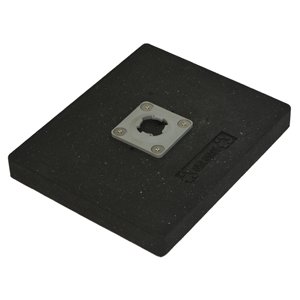 Semi-Permanent to Permanent Parking Lot Applications
FlexPost Standard Signposts, FlexBollards and FlexBollards with Signposts
FlexPost Standard Signposts, Standard FlexBollards and Standard FlexBollards with Signposts include a powder coated steel base and patented carbon steel torsion spring designed to withstand repeated impacts from vehicles in parking lots with an average volume of traffic. This type of parking lot typically includes municipal or smaller retail locations with light to medium turnover of parking spaces. Our standard line of products is designed to hold standard-sized parking lot signs. (For example, a 12 x 18″ ADA sign).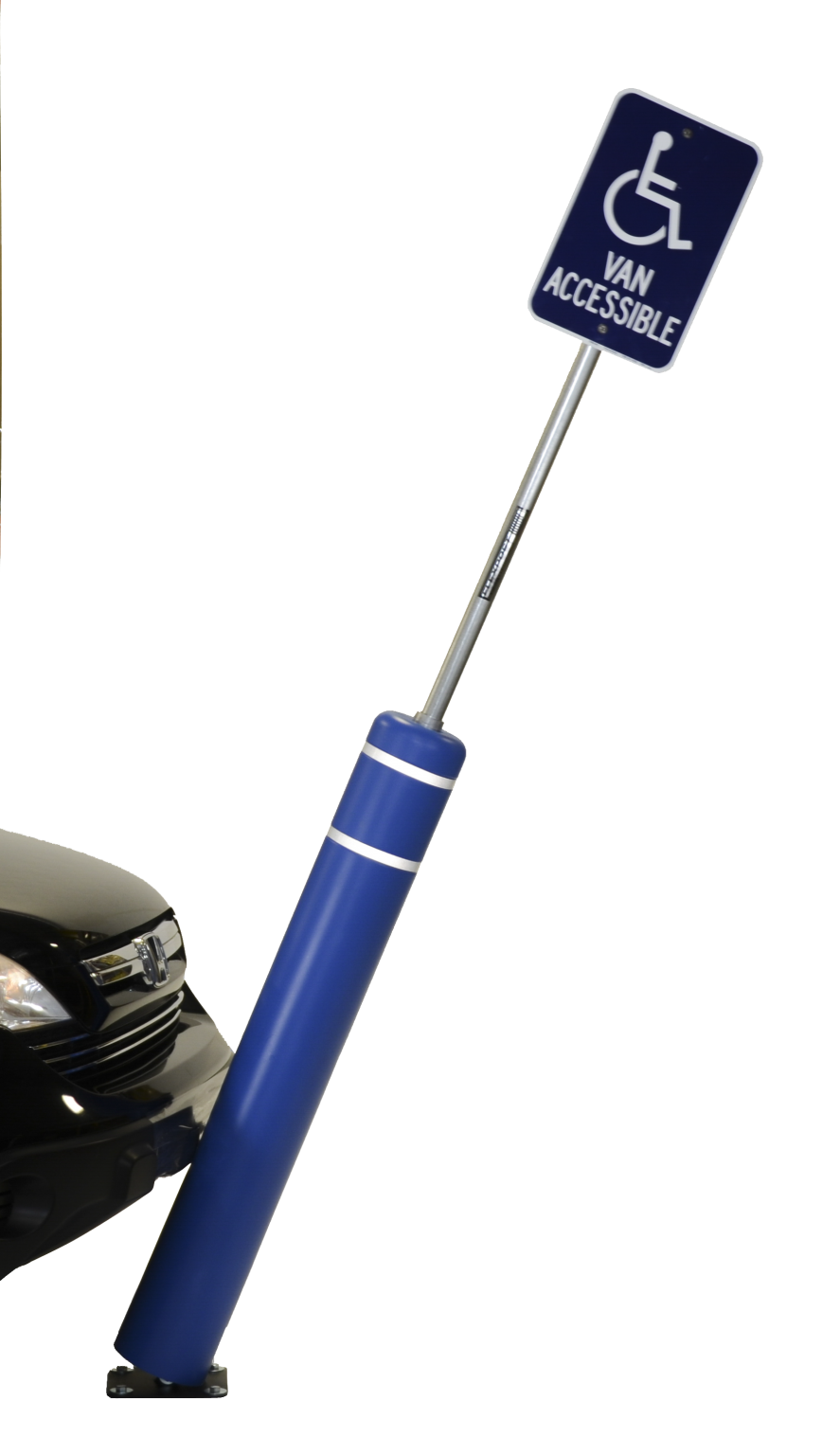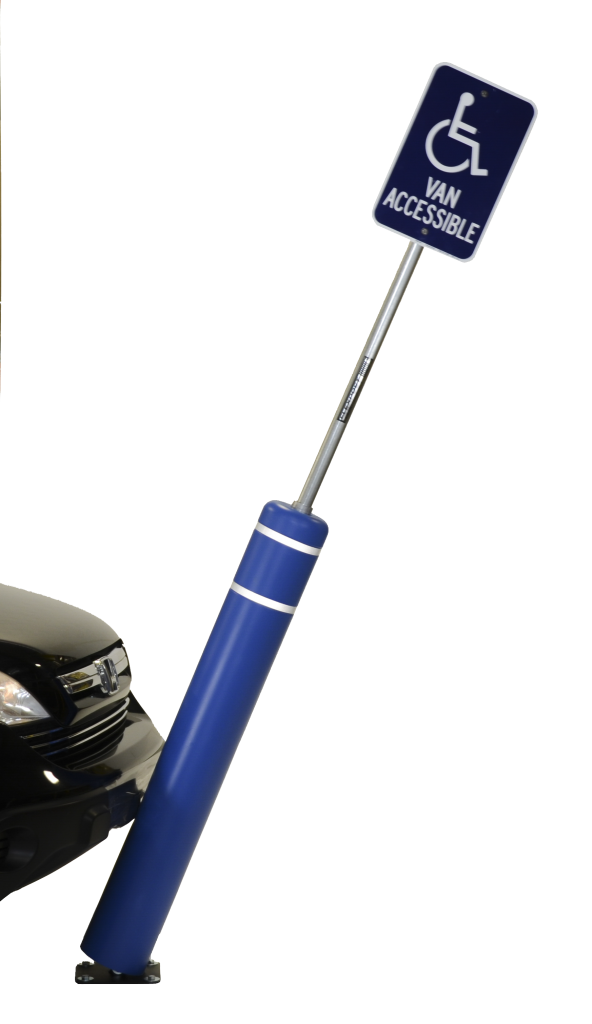 FlexPost XL Signposts, FlexBollards and FlexBollards with Signposts
Our XL line also includes Signposts, FlexBollards and FlexBollards with Signposts. However, FlexPost-XL™ products utilize a heavy-duty galvanized steel base with concealed spring technology for long-term durability. Our XL base is designed for parking lots with heavier traffic patterns, such as big-box retailers, universities, or airports. Our XL base carries a lifetime limited replacement warranty, and holds both standard-sized and large regulatory signs, up to 36″ x 36″, such as a stop or yield sign, or custom signage. Custom bollard colors and decals can also be specified, as well as the number of signs to be attached. This lends well to opportunities for branding, including BOPIS or curbside pickup. Try our XL product configurator to help you visualize your next parking lot project.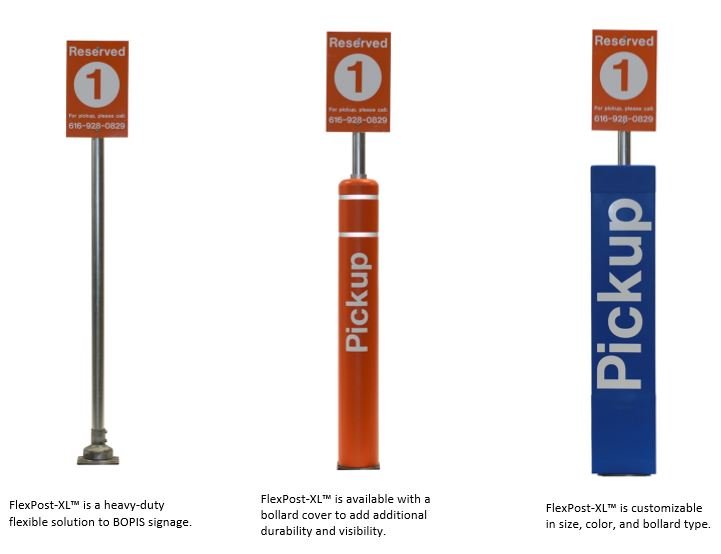 Cost Savings
Durability is important over the long run in a busy parking lot to withstand multiple impacts and keep people safe. However, there is also a significant cost savings that can be realized by utilizing flexible bollards/signposts vs. the traditional core-drilled concrete bollard/signpost. Concrete bollards have their place in protecting storefronts, gas pumps, etc. However, in a parking space application, a concrete bollard can do more harm than good by damaging customers' vehicles and the parking lot itself. Aside from unhappy customers and potential litigation, replacing a single core-drilled concrete bollard/signpost can cost up to $1,250. And, most retail stores are replacing an average of 3 bollard/posts per year. That's $3,750 per store! Multiply this by an average of 300 stores in a mid-sized retail operation, and this equates to over $1.000,000 per year in avoidable maintenance costs!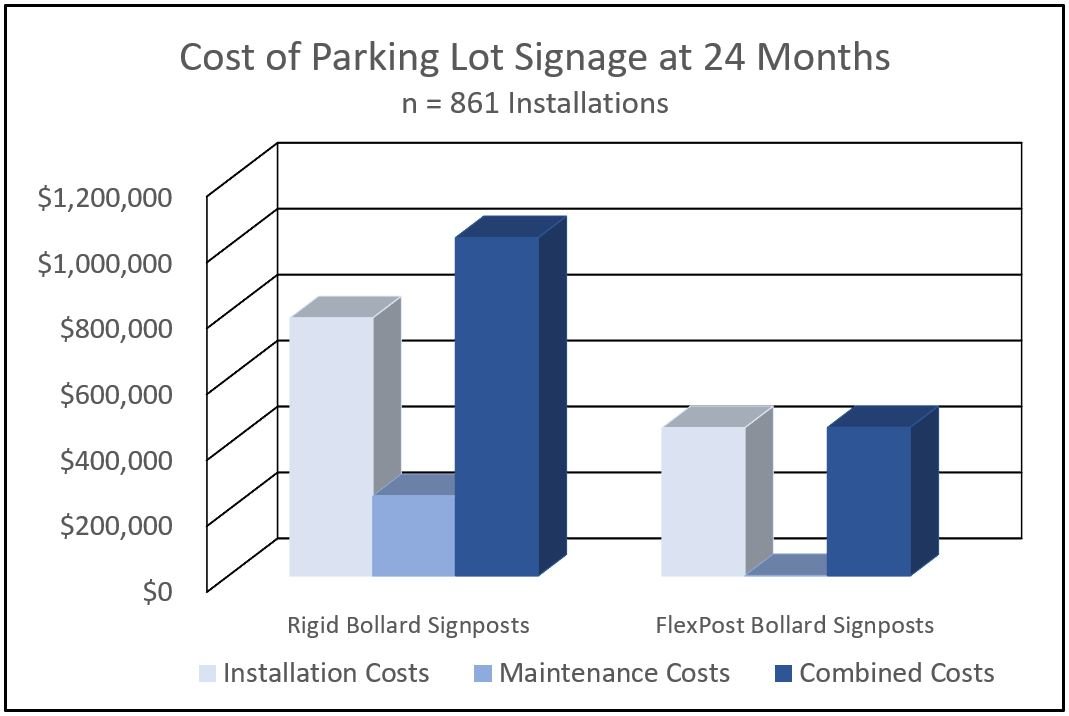 Ease of Installation
FlexPost is currently working with several large organizations with multiple locations that are not only benefitting from cost savings, but also the ease of installation. Even our semi-permanent to permanent standard and XL flexible signposts and flexbollards with signposts can be installed in 30 minutes or less, with no special tools or heavy equipment needed.

Why FlexPost?
Here are a few additional advantages provided by FlexPost…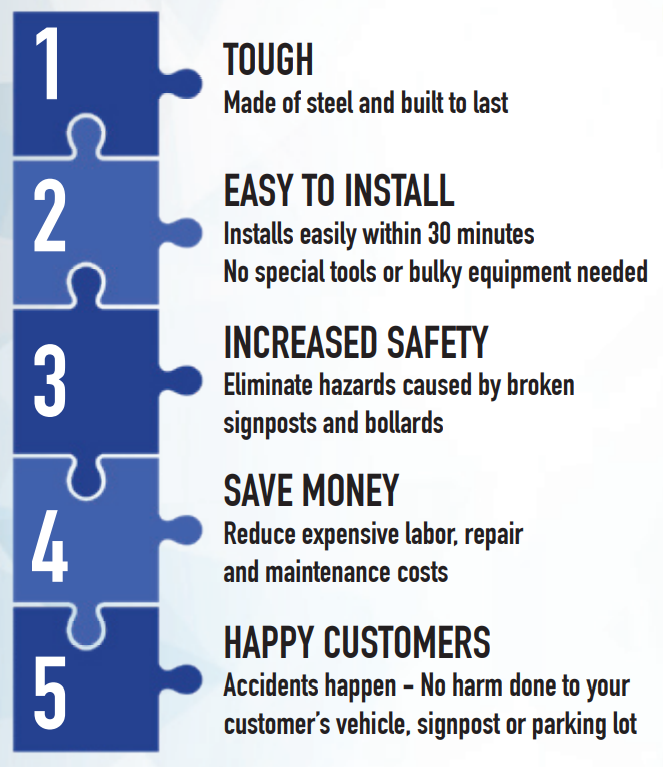 Contact us today to learn more.